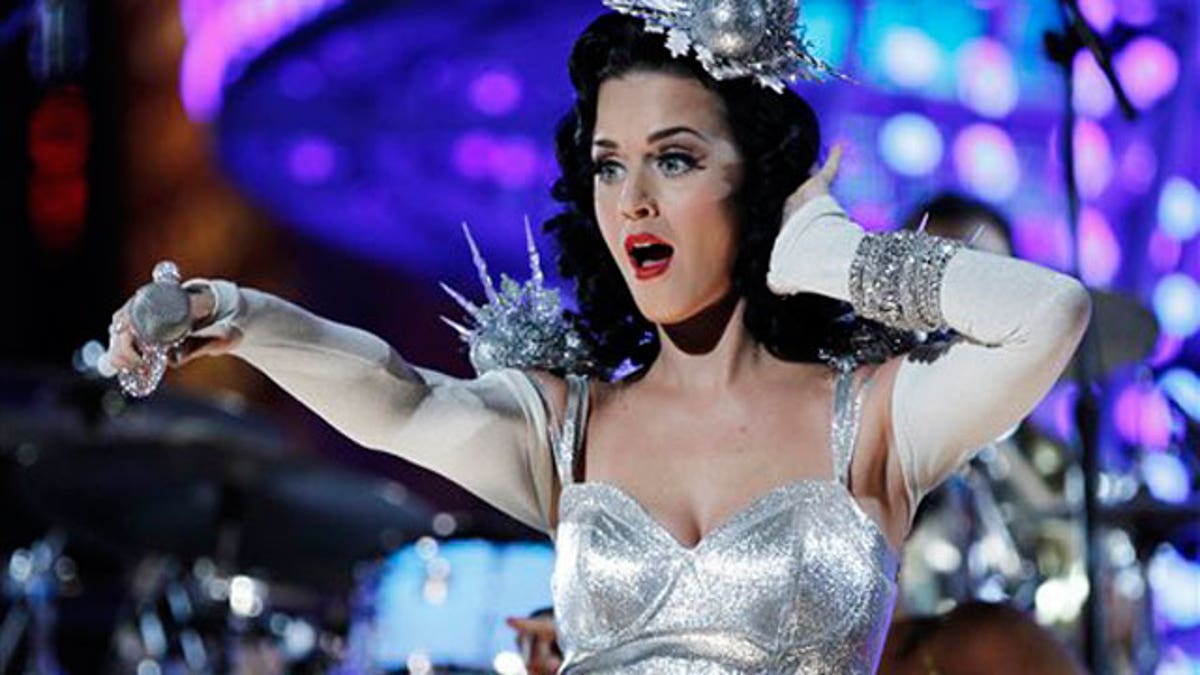 Katy Perry is in the popular clique now.
The singer-actress won the most People's Choice Awards at Wednesday's 38th annual fan-favorite extravaganza, but viewers wouldn't have known it from watching the ceremony. An absentee Perry was honored in five categories, including favorite female artist, tour headliner, song of the year for "E.T." with Kanye West, music video for "Last Friday Night" and TV guest star for "How I Met Your Mother."
Despite originally being touted by the show's organizers as among the nominees expected to attend, Perry told fans on Twitter earlier this week that she wouldn't make it to the show but that "I want to thank u all for voting for me, fingers crossed!" It would have marked Perry's first public appearance since British actor-comedian Russell Brand filed for divorce from Perry last month after 14 months of marriage.
"Harry Potter and the Deathly Hallows: Part 2," the final installment of the magical film series starring Daniel Radcliffe, followed behind Perry with four wins for favorite movie, action movie, book adaptation and ensemble movie cast, but the film's stars also weren't present at the ceremony, leaving more screen time on the CBS broadcast for other winners in the show's 43 categories honoring TV, film and music.
Ellen DeGeneres, Nina Dobrev, Chloe Grace Moretz, Adam Levine, Lea Michele and Demi Lovato, who performed "Give Your Heart a Break," were among the winners on hand to accept their awards selected by Internet votes.
"For all the Rachel Berrys out there, this one's for you guys," said Michele, who won as favorite comedy TV actress for her "Glee" role.
Emma Stone and Johnny Depp -- another no-show -- won two trophies at the ceremony, which was hosted by "The Big Bang Theory" star Kaley Cuoco. Depp and Stone, respectively, won the favorite movie actor and actress awards, while Depp was also honored as favorite animated movie voice for "Rango," and Stone was selected as favorite comedic movie actress.
"I moved to L.A. eight years ago this week with my mom, who's right there," Stone said while accepting her pair of crystal trophies. "It is so insane to be standing up here right now. It is hard to describe to you."
Among the TV winners were "How I Met Your Mother" for TV comedy, "Two Broke Girls" for new TV comedy, "Hot in Cleveland" for cable TV comedy, Neil Patrick Harris for TV comedy actor, "Supernatural" for TV drama and sci-fi/fantasy show, "Person of Interest" for new TV drama, "Pretty Little Liars" for cable TV drama and Nathan Fillion for TV drama actor.
Winners in the movie categories included Hugh Jackman for action star, "Bridesmaids" for comedy movie, "Water for Elephants" for drama movie, Adam Sandler for comedic movie actor and Ryan Reynolds as Green Lantern for favorite superhero. Morgan Freeman was bestowed with the first-ever favorite movie icon award.
"When I found out that I'd been nominated for the first-ever People's Choice movie icon award, I decided to look up `icon,"' Freeman said. "Here's what I found: The first definition said an icon is a tiny picture on a computer screen that represents a file."