Kaley Cuoco freaked out when she met Jennifer Aniston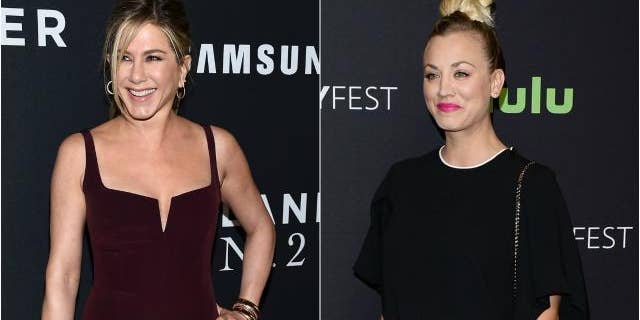 Meeting your heroes can be overwhelming, even if you're Kaley Cuoco.
The Big Bang Theory star opened up on Tuesday's "Late Night With Seth Meyers" about meeting Jennifer Aniston in January at NBC's 'All-Star Tribute to James Burrows' event, and from the sound of things, it was a pretty transformative moment.
"She turns around and she literally goes like this: 'Kaley!'" she told Meyers. "It was like the skies opened up, and she smelled like a garden. It was everything I dreamed it would be."
WATCH: 'Friends' Cast Reunites to the Delight of Kaley Cuoco: 'I Died and Went to Heaven'
And this isn't just a fond memory! Kaley Instagrammed the experience of the "Big Bang" and "Friends" casts coming together at the time, writing, "Ummmm NIGHT MADE. Can't breathe #friends meets #bbt @bigbangtheory_cbs I died and went to heaven."
The only thing that could have made the night better is if all the"Friends" had been able to attend the event. Matthew Perry was absent, which his rep told ET was due to a scheduling conflict.
WATCH: Kaley Cuoco Finalizes Divorce From Ryan Sweeting