Justin Theroux's disgruntled neighbor fires back: Actor explodes 'in out-of-control anger'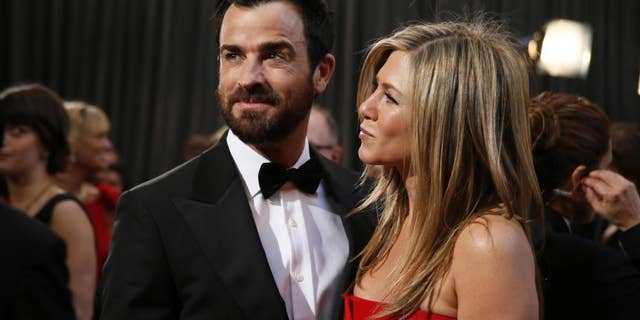 Justin Theroux should stick to acting, his Greenwich Village neighbor says in a no-holds-barred lawsuit over the star's $1 million apartment renovation.
Theroux, who is married to "Friends" star Jennifer Aniston, first sued attorney Norman Resnicow, his downstairs neighbor at 71 Washington Pl., in May claiming the lawyer "has made it his twisted sport to bully and intimidate" him.
Now Resnicow is hitting back with a counter-suit calling Theroux's "story of a so-called 'years-long harassment campaign' as fictional as the television series in which he recently starred."
Theroux plays an unstable ex-cop in HBO's supernatural drama "The Leftovers."
The actor's suit is "less a legal pleading than a press release to be used by Theroux's publicist to recount a lurid tale of petty vindictiveness," Resnicow gripes in his Manhattan counterclaim.
Resnicow, 69, says in the new court papers that Theroux, 45, is the real nuisance — "exploding in out-of-control anger" over the trimming of ivy on the building and abandoning "yowling" rescue dogs in his apartment while he "de-camped to California."
Resnicow responds to claims that he cut off water to Theroux's roof deck by blaming the spigot spat on the actor.
The water line froze and burst because "Theroux inexcusably delayed for months the removal of his then-deck as necessary for the roofers to repair the years-long leaks from Theroux's terrace directly into the Resnicows' living room," according to court papers.
As for allegations that Resnicow shut off his neighbor's electricity access?
"There has not been any shutting off…as Theroux could have easily ascertained merely by plugging a lamp into the electrical box on his terrace," according to the countersuit.
Resnicow lists other un-neighborly incidents including the time in August 2015 when a 16 square foot hunk of ceiling collapsed on him in bed one morning while he was recuperating from open heart surgery.
"A Theroux workman had removed a chunk of wooden flooring to install piping, and his hand slipped and broke the ceiling above the sleeping Norman," according to court papers.
Resnicow and his wife have had to deal with "10 years of exposure to various varieties of noises," he complains in court papers.
"Especially the years of endless day and night barking, yowling and crying of the several rescue dogs Theroux left for several years in the apartment after he de-camped for California (with those sad, isolated, lonely dogs only visited periodically by Theroux's hired (non-resident) dog walker/feeder)," the countersuit says.
Then there was the 2016 incident when "weekend house guests of the Resnicows were awakened at about 3:00 a.m. on a Saturday night by what sounded to them like someone repeatedly and deliberately dropping heavy health club weights on the floor directly above them."
"Norman Resncow put under Theroux's door a handwritten note complaining of the night's inexcusable noise interfering with the sleep of tired guests; no response ever came," according to the filing.
The neighbors at the eight-unit co-op were not always enemies.
Resnicow reveals that the actor once asked him "to handle– on a discreet basis– the exiting of Theroux's longtime live-in girlfriend from his apartment because Theroux had broken up with her and was living in a hotel."
This "led Norman to having to deal with the girlfriend's angry sister," he says in court papers. Theroux has lived in the building since 2001. He married Aniston in 2015.
He's suing Theroux for legal fees and other damages.
An attorney for Theroux declined to comment on the pending litigation.
This article originally appeared in the New York Post.