Justin Bieber Cuts Argentina Concert Short After Suffering Food Poisoning, Latest Setback In Troubled Tour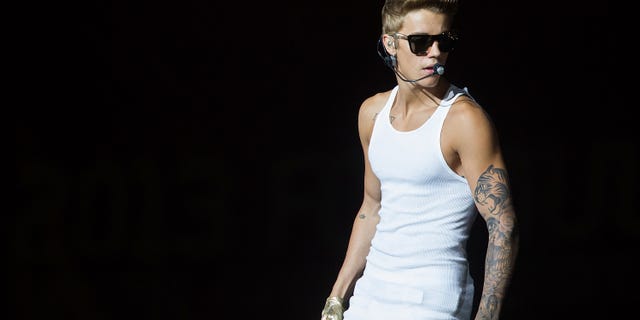 Justin Bieber's misfortunes during his Believe Tour across Latin American continue to grab headlines.
In Argentina on Sunday, the 19-year-old blamed food poisoning for forcing him to quit the stage for the second time during his three-week tour. This time, he drew boos from a huge crowd in Buenos Aires' River Plate stadium who ponied up $320 to see their idol perform up close.
"I'm not feeling too good, I think I'm out of energy," he told the crowd, saying he was sorry and blowing a kiss before walking off the stage with his head hung low.
Bieber posted a "selfie" photo on Twitter showing himself receiving intravenous fluids, and his manager Scooter Braun came to his defense Monday with a statement laying out a version of Bieber's wild weekend.
Braun said Bieber's food poisoning was so severe that he spent eight hours on an IV drip before Sunday night's show, and doctors advised canceling, but that the young star didn't want to disappoint his fans.
The concert began at 4:30 p.m., but all the warm-up acts had come and gone by the time Bieber finally felt well enough to go onstage after 10 p.m., an hour and a half later than scheduled. He then performed for "nearly an hour" before he had to give up, Braun said.
Braun also tweeted a message saying Bieber "had a rough night but handled it like a man who cares and put his beliebers before himself. very proud. he will be back!"
Before the concert, the "Boyfriend" singer revealed he was not feeling well.
"Sitting here with food poisoning and heard we won #bestmale at the #EMAs. Thanks everyone," he tweeted, adding, "Argentina been a rough day but the show must go on. I'm coming."
"Not feeling so good. Actually pretty sick. Pulling it together. Argentina we got a show to do. Love u," Bieber tweeted.
None of the statements by the singer or his managers made mention of the trail of troubles Bieber's tour has left in its wake, and Braun did not immediately respond to a detailed request for comment about them.
Another headlining incident in Argentina came from wild girls that caused such a ruckus outside the Faena hotel that Bieber was asked to leave.
According to TMZ, officials at the Hotel Faena got fed up with fans camping outside and reportedly destroying hotel property – even tearing down police barricades, that they told the singer to stay elsewhere.
Hotel Faena confirmed the Biebs was not longer staying at the hotel, but wouldn't confirm whether or not they kicked him out, E! News reports.
Despite the negative headlines, the superstar singer continued to show South American fans his love.
"to all my fans at the hotel. thank you. i love you. but please calm down and respect the police. we dont want anyone getting hurt," Bieber tweeted Saturday, adding, "im at the stadium now. come here. Argentina it is about to be a great night. Te amo. #BelieveTour. Argentina Day 2."
These incidents follow a trail of misfortunes - or bad decisions by the pop singer - that had Bieber walking off the stage in Brazil, ending a concert early after someone threw a plastic bottle at him; a Brazilian woman posted pictures of him crashed in bed after a night at a strip club, and Brazilian police tried unsuccessfully to question him about defacing a public building with graffiti, a crime that carries a year's prison sentence.
The teenager has since been charged with vandalism for spray-painting graffiti in Rio de Janeiro, Brazil.
E! News reports that the charges came after local authorities held a three-day hearing where they heard testimony from photographers, police officers, his security guards and others.
Bieber will have to pay a fine and will not be arrested. A judge needs to examine all the evidence and determine the cost of the fine.
The singer's next concert was scheduled for Tuesday night in Santiago, Chile.
The Associated Press contributed to this report.
Follow us on twitter.com/foxnewslatino
Like us at facebook.com/foxnewslatino