Juliette Lewis Shares Her Thoughts on Her Ex-Fiance Brad Pitt and His Ex-Wife Jen Aniston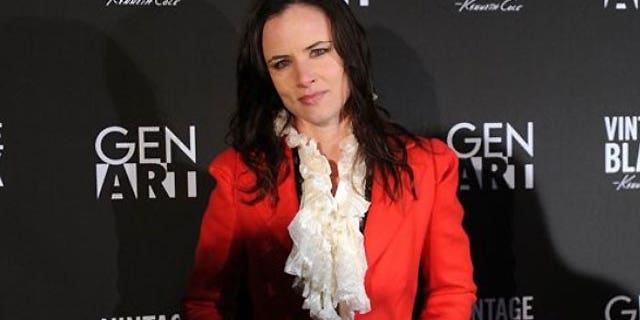 Jennifer Aniston may not have the best luck when it comes to finding Mr. Right, but her co-star in the upcoming comedy "The Switch", Juliette Lewis, seems to think the 41-year-old starlet is pretty close to perfect.
"Jen was simply a piece of heaven," Lewis recently told Pop Tarts while stripping down to her underwear and busily trying on the new Fall/winter 2010 collection at the G-Star Raw showroom in Los Angeles. "Just a real girls' girl – really down to earth, funny and absolutely wonderful. I play her best friend and I am kind of daffy, but we just had a natural affinity for each other."
SLIDESHOW: The Lovely and Talented Jennifer Aniston
But Aniston's not Lewis' only co-star with whom she remains friendly. She opened up about her co-stars Leonardo DiCaprio and Johnny Depp, with whom she starred in the 1993 hit "What's Eating Gilbert Grape."
"Leo I've seen from time to time, it's funny because when you share an experience with people like that – I feel like we went to boot camp together or high school, like we grew up together," Lewis said. "I remember working on 'Gilbert Grape,' and I was older than him by like, one year but it was such a big deal, like I was so grown-up. Johnny Depp I haven't seen in a long time, and then Brad (Pitt, ex-fiancee and co-star in 'Kalifornia') and I run into each other on and off and we say hello and that is really nice."
FOX411: Brad Pitt Reportedly Calls Jen Aniston 'Pathetic'
The 36-year-old Oscar nominee has certainly explored an array of wild and troublesome behaviors over the years (she was arrested for driving illegally at 15 and again at 16 for sneaking into clubs, wore cornrows in her hair to the Academy Awards, went to rehab in her early twenties to kick a drug and alcohol addiction in which she turned to Scientology for help and even groped new mom Cate Blanchett at the Cannes Film Festival in 2008).
But in spite of all that, Lewis felt it most important to clear up any misconceptions that she has a short fuse.
"I don't have an explosive temper, people seem to think that – maybe somewhere lives the lion in my cage," she continued. "But I'm actually kind of goofy."
And while not many celebs would consciously choose to step away from Hollywood (not to mention give interviews in their underwear), this self-confessed "freak" is certainly a rare exception.
"I'm doing movies again, I hadn't done a movie in 5 years, which was a really big deal for me and it was very deliberate," Lewis added. "Because when I started music I meant it so it wasn't just 'Oh let me do a show on the weekend.' For me it was embarking on this spiritual rock and roll journey, I didn't know if I would succeed or not. I'm still an underground artist, a little freak artist – but music is my livelihood now, so I only make for the sheer love and obsession of the projects. I'm not making movies to cultivate a career which is a very liberating."