Julianne Hough slammed for donning 'black face' Halloween costume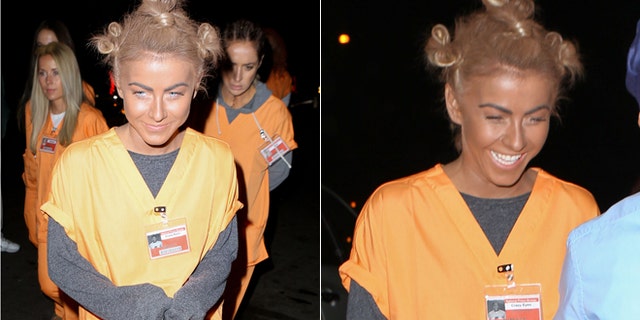 Former "Dancing With the Stars" pro Julianne Hough, 25, likely has a closet filled with fabulous costumes, but her Halloween selection over the weekend was far from her finest.
The "Rock of Ages" star was photographed at a Halloween bash on Friday night, donning a racially offensive "black face" and a prison jumpsuit, impersonating the character "Crazy Eyes," played by Uzo Aduba, from the hit Netflix series "Orange is the New Black."
And the controversial move didn't go unnoticed. Joan Duvall-Flynn, President of the Media Area Unit of NAACP of Pennsylvania, told FOX411 that Hough has some explaining to do.
"The current racial tensions in the United States require careful reflection as we relate to each other. If her behavior is a political statement, she should explain that," she said. "If her behavior is an act of impulsive insensitivity, she needs, as a public figure, to be more responsible. And, an apology for such insensitivity is appropriate."
While the actress was quick to apologize via Twitter, insisting that it was "never (her) intention to be disrespectful or demeaning to anyone in any way," and that she realizes her costume "hurt and offended people," some weren't so quick to forgive her.
Actress Martha Plimpton called Hough a "moron" - although she later apologized - while others tweeted that she was a "racist b*tch," and "f*cking stupid."
One Twitter user pointed out that Hough isn't the first star to dress up in that way.
"And the latest white celebrity to cluelessly bust out the black face is... Julianne Hough."
Other stars who have come under fire for similar costumes over the years include Ted Danson, Billy Crystal, and Sarah Silverman.

But at least a few did scattered voices on the Twitterverse came to Hough's defense.
"I'm not very offended by Julianne Hough's get-up. Were we offended by the Wayans in insipid 'White Chicks?'" tweeted one, as another wrote: "People need to stop being so thin-skinned. Julianne apologized. What more do you people want? Blood? Leave her alone."
And others turned to humor to reflect on the situation.
"@donald_faison you should go as Julianne Hough for Halloween. I'll be Seacrest," comedian Zach Braff wrote, referring to Hough's ex-boyfriend Ryan Seacrest, while writer Rob Delaney observed: "I'm more upset that Julianne Hough dressed like a good actress."
And according to crisis management expert Glenn Selig, this incident isn't likely to hurt her brand in the long-term.
"Julianne apologized for the costume and it appears as though she did not intend to offend anyone by dressing up that way. The reality is Julianne is too young to have lived through the ugly history of black face and Hollywood," he said. "That doesn't excuse it--she clearly should have known better--or someone around her should have. I don't see this single incident as causing any irreparable long term harm to her or her career."
But what Hough's serious case of poor judgment may point to is a lack of historical awareness among younger generations, or specifically those in the isolated Hollywood bubble of fame and fortune.
"Clearly there are some in Hollywood who lead very sheltered lives, have not been broadly educated and therefore lack perspective," Selig added. "That can get them into trouble as it apparently did this time with Julianne."
Reps for Hough and Aduba did not respond to a request for further comment, and Aduba has not addressed the incident on social media.