Judge slaps 'Tiaras' mom with gag order in custody case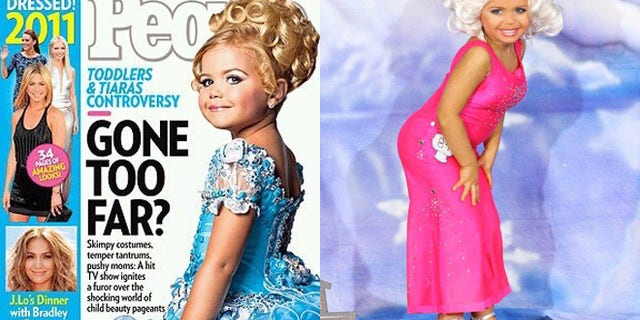 A hearing in Campbell County, Kentucky took place Friday to decide if 6-year-old "Toddlers & Tiaras" star Madisyn "Maddy" Verst would remain the custody of her mother, Lindsay Jackson, or if that custody would be transferred to her father, Bill Verst.
Jackson claimed that her ex-husband was using Maddy's participation in child beauty pageants as a reason for the court to award him full custody.
The case took an unexpected turn Saturday when in an unprecedented move on, Judge Weoste ejected all media, closed the hearing and slapped Jackson with a gag order. Court proceedings will resume on August 31, where testimony will resume and a decision may be made.
The judge also placed a moratorium on pageantry for Maddy and her mother until further notice.
"This case is an assault on the Civil Liberties of the mother and her child, who are at the unfortunate whim of a resentful ex and activist judge," Jackson's representative, Heather Ryan said following the orders.
Jackson had been concerned that a ruling against her could set a precedent.
"If (the judge decides) that Maddy needs to live with her dad because she does pageants with me, then that opens the door for any parent to challenge anybody on activity that a kid does, period," declared Jackson before the hearing. "We could really open up Pandora's Box to set a precedent all over the world. What if years ago Gabby Douglas' father said, 'She's not going to be a gymnast. She's not going to move away from home and practice gymnastics because I won't allow it,' and he and Gabby's mother got into a fight? We wouldn't have gold medal winners, we wouldn't have Miss America, we wouldn't have Miss USA."
In documents obtained by FoxNews.com, a psychologist appointed by the court had recommended the parents "maintain a temporary joint custodial arrangement, with Bill as primary residential custodian."
In coming to the recommendation, the psychologist wrote over 3,000 words condemning Maddy's participation in child beauty pageants, specifically citing her Dolly Parton number on "Toddlers & Tiaras" and photographs of Maddy dressed as "sexy police officer."
"Obviously, if I had know that this Dolly thing was going to be an issue, I wouldn't have done it, especially on national TV," said Jackson. "I never intended for it to be a negative costume – it was costume designed to represent our state. Dolly's from Tennessee, so that's what I did. As far as the police outfit goes, it's nothing more than a pair of shorts and a shirt that says, 'Bad cop, no donut' on the back. You can buy it for retail as a Halloween costume – and it's more revealing than what Madisyn was wearing. That outfit was never intended on being sexualized. (The court-appointed psychologist) thinks it is, but that's a matter of opinion."
The court-appointed psychologist was not alone in believing Jackson is contributing to the sexualization of her daughter.
"The whole pageant mentality concerns me – especially for very young children," Dr. Jenn Berman, a Beverly Hills-based psychotherapist and host of VH1's upcoming season of "Couples Therapy," told FoxNews.com. "Giving children the idea that their value is in looking pretty or being sexualized is a very scary message to give kids, especially at such a young age. I can definitely understand why a court-appointed psychologist would be concerned."
But Jackson believed that because of her ex-husband's connections, the judge, and the court-appointed psychologist, would be biased against her.
"We're in a very, very small town and his family is very, very political and very, very well-known and very, very wealthy, they're very involved in the court system and everything else," said Jackson. "I'm fighting a losing battle in a county because of who his family is and how much money they have. I shouldn't be in this court to begin with, it should have been moved to another court so it would be unbiased."
Last year, pint-sized beauty queen Madisyn "Maddy" Verst sparked outrage when she appeared on TLC's hit reality show "Toddlers & Tiaras" prancing around in a sparkly Dolly Parton outfit complete with padded breasts and backside.
The then five-year-old's saucy shake and shimmy landed her on the cover People magazine, with the headline asking, "Gone Too Far?"
"While some people may or may not agree with pageants – it's not illegal," said Jackson. "I shouldn't be at risk of losing my child simply because she participates in a hobby that some people don't like."