Jordan Peele teams up with BuzzFeed for expletive-laden Obama fake news video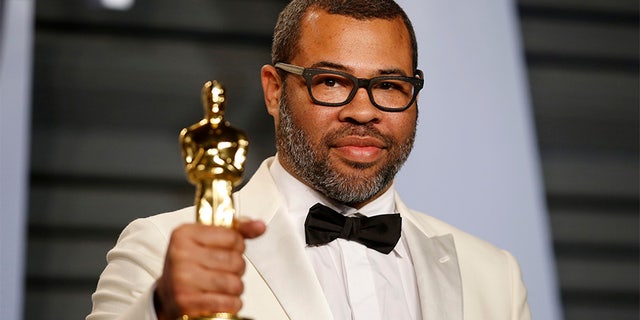 WARNING: VIDEO CONTAINS SWEARING.
BuzzFeed teamed up with Oscar-winning actor Jordan Peele Tuesday to film a public service announcement on how fake news operates while mocking President Trump and Ben Carson.
The 72-second segment begins with what appears to be a message from Barack Obama before it reveals halfway through that the video was digitally manipulated to put Peele's words into the mouth of the former president.
Peele has garnered fame for his impersonation of Obama on the Comedy Central show "Key & Peele."
"We're entering an era in which our enemies can make it look like anyone is saying anything at any point in time, even if they would never say those things," said the 39-year-old actor said as the 56-year-old ex-commander-in-chief.
Peele goes on to claim "Ben Carson is in the sunken place," referencing his film
Get Out," and also says, "Simply, President Trump is total and complete dips---."
Peele as Obama added, "It may sound basic, but how we move forward in the Age of Information is gonna be the difference between whether we survive or whether become some kind of f----- up dystopia."
He also shared "This is a dangerous time. Moving forward, we need to be more vigilant with what we trust from the internet," before concluding "stay woke b----es."
BuzzFeed CEO Jonah Peretti, who is also Peele's brother-in-law, revealed the idea for the video first originated after he a Peele discussed how it was important to warn the public about the "rapidly evolving threat posed by digital information" spread online.
"I always enjoy talking with Jordan, and he's actually very interested in news and the news business and understanding how information spreads," explained Peretti. "We were talking about deepfake [artificial intelligence] that can create things like that guy who put his wife's face on Anne Hathaway's body for a late-night interview."
Peretti, whose sister is Peele's wife, comedian Chelsea Peretti, insisted he felt the video was an ideal fit for BuzzFeed, which has previously reported on fake news.
"We've covered counterfeit news websites that say the pope endorsed Trump that look kinda like real news, but because it's text people have started to become more wary," he explained. "And now we're starting to see tech that allows people to put words into the mouths of public figures that look like they must be real because it's video and video doesn't lie!"
BuzzFeed video producer Jared Sosa digitally altered footage of Obama to a script written and performed by Peele using Adobe After Effects and FakeApp, a program that previously stirred headlines in January when it was used to transplant Nicolas Cage's face into several movies he didn't appear.
Peretti hopes the video will show audiences how trusted reporters are crucial for accurate information now more than ever, especially when it comes to the internet.
"I think by and large the internet has been amazingly beneficial to the world and to democracy," he said. "And simultaneously it's always had a dark side that objectionable, with people who are either trolls or hackers or scammers or politically motivated."