Jon Stewart likens 'Batman' villain 'Bane' to Romney's Bain Capital firm; character's creator (kind of) cries foul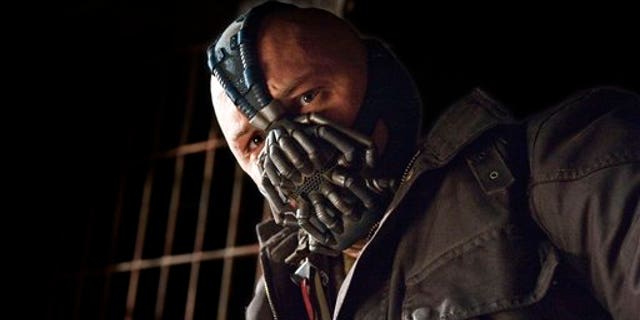 The latest addition in the Batman franchise couldn't have come at a worse time for Mitt Romney.
"Bane," the super villain in the upcoming Hollywood blockbuster, "The Dark Knight Rises," has become fodder for late-night comedians, like Jon Stewart, who likened the character to Romney's old venture capital firm, Bain Capital.
The company -- which Democrats have labeled a "jobs killer" -- "happens to bear the same name as the most frightening and current 'Batman' villain," Stewart joked during the "Daily Show" on Monday, before cutting to a clip of the terrorizing, mask-wearing "Bane" in a scene from the movie.
"He doesn't even sound human," Stewart quipped.
Democratic adviser and former Clinton aide Christopher Lehane also seized on the opportunity to liken the villain to Romney's company, telling the Washington Examiner that "It has been observed that movies can reflect the national mood."
"Whether it is spelled Bain and being put out by the Obama campaign or Bane and being out by Hollywood, the narratives are similar: a highly intelligent villain with offshore interests and a past both are seeking to cover up who had a powerful father and is set on pillaging society," he told the newspaper.
But famed comic book writer Chuck Dixon, who with Graham Nolan created the character of "Bane" in the 1990s, called the comparison "ridiculous."
In a posting on the message board section of his website, Dixonverse.net, Dixon wrote: "I saw it on FB like two hours ago. Ridiculous. Tho' I got a cold feeling in the pit of my stomach that Rush may pick up on this. And that would be the second time he pegged me and Graham as liberals on his show."
"Overgrasping Dems?" he wrote. "Hey, if it gets Obama supporters into theaters. Maybe they'll buy thousands of Bane toys to throw at Romney. It all adds to MY Bane capital. I wonder if the Romney campaign will contact me?"
The dictionary defines "bane" as a deadly poison or a person or thing that "ruins or spoils." The movie's principals -- some of whom are Democratic donors -- have so far not issued a statement on the matter.