Johnny Galecki, 43, shares snap of night out with new girlfriend, 21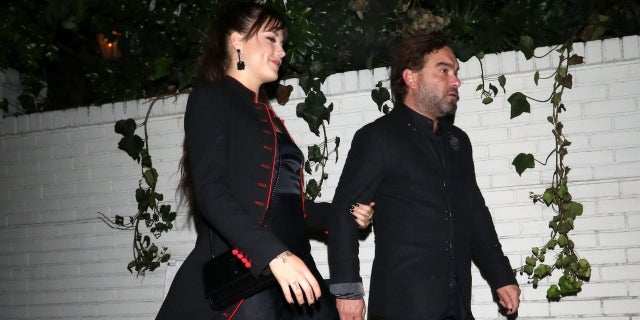 "Big Bang Theory" star Johnny Galecki posted an Instagram photo of a night out with his new, younger girlfriend Alaina Meyer.
Galecki, 43, posted the snap on Monday, saying his evening with Meyer, 21, was "wonderful."
"Last night was wonderful. Thank you #jeffreykatzenberg," Galecki wrote.
Meyer also posted photos of the couple together from the evening on her Instagram.
'BIG BANG THEORY' STAR KALEY CUOCO SAYS SHE DUMPED 'REALLY FAMOUS' EX-BOYFRIEND FOR BEING A 'BAD TIPPER'
"Last night," she wrote in the caption.
The actor shared photos of the two hanging out together during the summer, including at a Jack White concert and a day at the beach.
Meyer shared a photo earlier this month of the actor's initials on her forearm. The photo also showed that Galecki appeared to have Meyer's initials tattooed on his hand.
"Gone country and branded by babe," she wrote.
'BIG BANG THEORY' TO END AFTER SEASON 12
Us Weekly reported Meyer worked as a welder. It was not immediately clear how the two met.
Galecki dated his "Big Bang Theory" co-star Kaley Cuoco for two years before they split in 2010. The two have remained friends.