John Stamos helps turn on Xmas lights at Graceland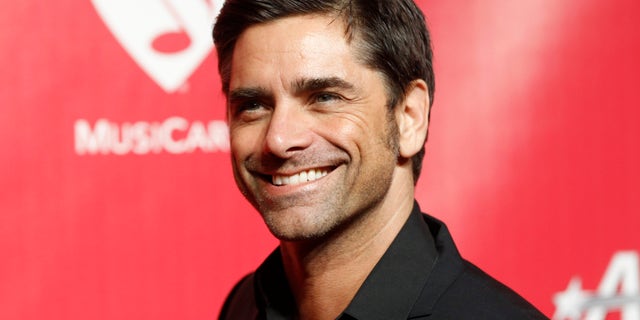 Sporting Elvis Presley-like sideburns, actor John Stamos helped flip the switch Friday on the colorful display of holiday lights adorning Graceland, Presley's home-turned-museum in Memphis.
An avid fan of the King, Stamos joined hundreds of fans who watched yellow, red and blue lights illuminate the large front yard of Presley's former home. Stamos was joined by young patients from Le Bonheur Children's Hospital at the lighting ceremony.
Stamos, perhaps best known for roles on TV shows such as "General Hospital," ''Full House" and "ER," told The Associated Press in an interview after the ceremony that he wore the sideburns for his appearance at Graceland. Presley often wore long sideburns.
"It's so funny. I had a beard, and I was like, 'I better shave this and I'll keep the 'burns in tribute," Stamos said.
When asked if he styled his hair a little higher in honor of Presley, who wore a pompadour, the quick-witted Stamos joked, "This is a new wig. I put a special wig on for tonight."
Stamos has close ties to Graceland: His voice is featured on the iPad tour of the home. He remembers dressing up as Presley during an episode of "Full House," and, while visiting Graceland in the 1990s for a TV special, he even got to play one chord on Presley's piano.
"I think the first time I saw him, the word 'supernova' came into my head," Stamos said. "I was just immediately in awe. He had it all. Nobody's had it all. People have good voices, or they're good looking, or their charismatic, or they're good people, but it's the combination."
Stamos said he is appearing in the upcoming ABC musical comedy series "Galavant," which he describes as "a cross between 'The Princess Bride' and Monty Python." He also has worked on pilots for two new TV shows.