John Cena removed from WWE Crown Jewel in Saudi Arabia days before pay-per-view event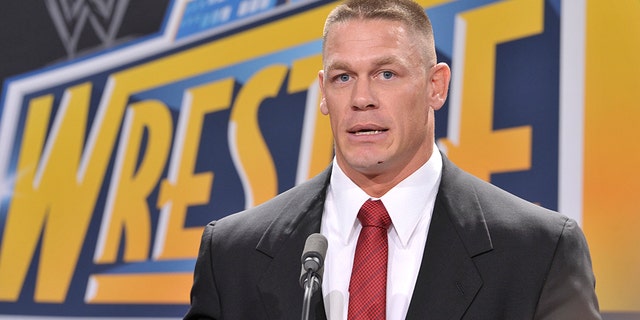 WWE star John Cena was reportedly removed Monday from the company's pay-per-view event scheduled to take place Friday in Saudi Arabia.
Cena was quietly removed from the card and was replaced by Bobby Lashley during WWE's flagship television show "Monday Night Raw," ESPN reported.
Lashley will join Seth Rollins, Kurt Angle, Dolph Ziggler, Jeff Hardy, The Miz, Rey Mysterio and Randy Orton in the WWE World Cup matches.
"As always, we maintain an open line of communication with our performers and will address each situation accordingly," WWE said in a statement.
WWE announced last week it would continue on with the Crown Jewel pay-per-view event despite outcry from fans and politicians over the murder of Washington Post columnist Jamal Khashoggi on Oct. 2 in the Saudi consulate in Turkey.
"WWE has operated in the Middle East for nearly 20 years and has developed a sizable and dedicated fan base," the company said in a statement alongside third-quarter financial results. "Considering the heinous crime committed at the Saudi consulate in Istanbul, the Company faced a very difficult decision as it relates to its event scheduled for November 2 in Riyadh. Similar to other U.S.-based companies who plan to continue operations in Saudi Arabia, the Company has decided to uphold its contractual obligations to the General Sports Authority and stage the event."
Representatives for Cena did not immediately respond to Fox News' request for comment.
The star performed in WWE's the Greatest Royal Rumble, which took place in Saudi Arabia in April. He also made a speech in front of 60,000 people at King Abdullah Sports City Stadium, according to ESPN.
"What an honor and a privilege it is to be allowed to be a part of an event like today," Cena said at the time. "Regardless of what is going on in my universe, I was not going to miss this event for anything in the world. I want to send a genuine thank you to the kingdom of Saudi Arabia ... for its unmatched hospitality that extends far beyond this evening. And I also want to say once again, thank all of you for allowing me to be part of something so special."
Rumors swirled last week over Cena and fellow superstar Daniel Bryan pulling out of the event. Bryan's status appeared to be up in the air, according to multiple reports.
The male-only event is set to take place Nov. 2 and feature Triple H, Shawn Michaels, The Undertaker, Kane and Brock Lesnar. Bryan is on the card and set to face A.J. Styles for the WWE Championship.
Hulk Hogan told the Orlando Sentinel last week he was traveling with WWE to Saudi Arabia, too.