Joan Rivers handcuffs self to Costco shopping cart to protest store not carrying her new book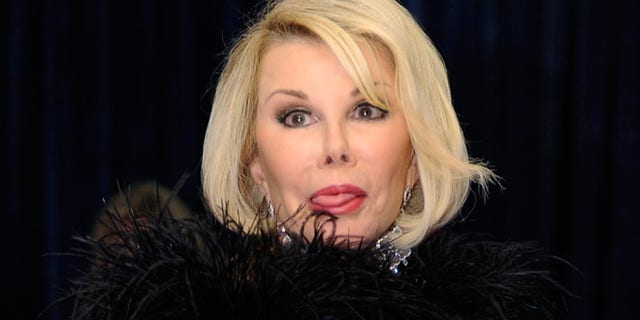 Joan Rivers made bargain shopping in Burbank a little more interesting on Tuesday.
Police were called to a Costco store in the Los Angeles suburb after the comedian handcuffed herself to a shopping cart to protest the store, which is not selling her latest book.
The 79-year-old "Fashion Police" host was being filmed by a camera crew Tuesday as she complained that the store in Burbank, Calif., had refused to carry her book, "I Hate Everything... Starting With Me."
Rivers yelled through a bullhorn that Costco was like "Nazi Germany," and that soon they would be burning bibles.
Costco does not carry her book because it has some bad words on the back cover, TMZ reports. Rivers' has made up fake reviews of her book by historical figures, including Marie Antoinette, who she quotes as saying "Let her eat s**t," and Wilt Chamberlain, whose quote reads in part "I wouldn't even f**k her."
Rivers also claimed she was not on Costco property, but on "Indian" property because the land on which Costco is built had been stolen from the Indians.
Burbank city spokesman Drew Sugars says the store manager called police, who sent officers to the scene because they were uncertain of the scale of the situation.
They ended up escorting Rivers from the store, and she and her crew left without incident.
Sugars says there were no citations or arrests.
The Associated Press contributed to this report.