Jessie James Decker shares breastfeeding video as she talks about her post-baby body: 'I'm trying to be patient'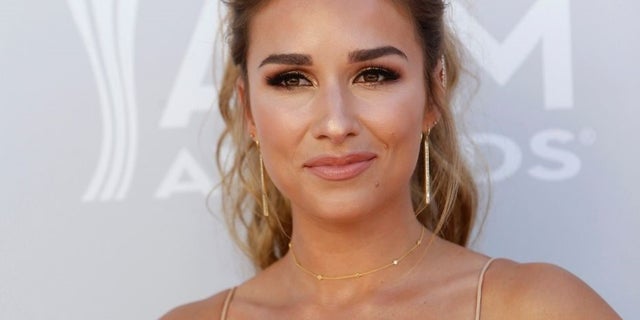 After welcoming baby number three in March, Jessie James Decker is getting candid about achieving her post-baby body goal.
On Thursday, the country music star, 30, shared a video of herself breastfeeding 3½-month-old son, Forrest Bradley, moments after she finished working out.
"I barely finished my workout because [Forrest] started waking up from his nap, crying," said Decker. "It is, like, super tough to try to get a good workout in with your baby trying to nap and cry. But I did it, it was a 10-minute workout and I feel really good about it."
Decker also encouraged other moms to try and fit exercising into their routine. "Try to get it done today if you can, girls. Even if your baby starts screaming towards the end, whatever you do, every little bit of it counts," she advised.
The "Eric & Jessie" star, who is also mom to 4-year-old daughter Vivianne Rose and 2-year-old son Eric Jr., went on to explain in the video's caption that she's used to seeing results "a lot faster."
"I will admit this is been the most challenging to see any progress this time around," admitted Decker. "Baby Number three is no joke when it comes to your body and all the changes! I'm definitely used to seeing things progress a lot faster but I'm trying to be patient."
She continued: "Trying to stay active and trying to eat healthy as much as I can!! I'm not one of those women that drops weight from breast-feeding I'm one of those women that holds onto every little ounce of weight that I have to continue to make milk for my baby."
Decker, who revealed she's trying to lose 15 pounds, says she reminds herself she's only "four months post" and needs to "be patient."
"So in the end all that matters is he's healthy and eating well," said Decker. "But I'm not going to lie obviously I would love to see some changes physically so I can fit back into my old clothes."
"But I have to remind myself I'm only four months post and we have to be patient with ourselves and just do all that you can't to feel healthy and good in your own skin!! #mommyworkoutdiary #15lbstogo."
Decker welcomed son Forrest with husband, Eric Decker, on March 31. "We are so in love," she captioned a picture at the time of her baby boy on her chest, announcing the sweet news.