Jessica Simpson Camp Accused of Snubbing US Troops During Holiday Special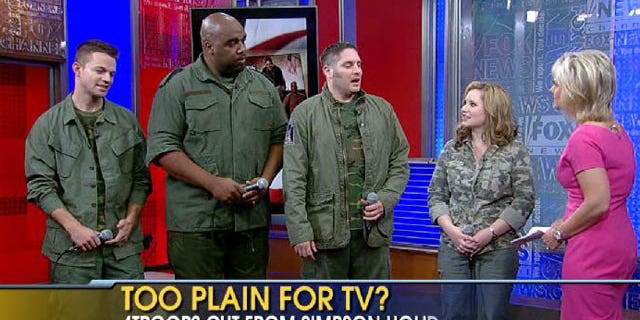 A group of singing soldiers say they were disappointed to learn that Joe Simpson and his team of producers had cut them from a planned performance on Jessica Simpson's PBS holiday special.
4Troops, a musical quartet made up of four former army soldiers, told "Fox and Friends" that they were set to perform "I'll Be Home for Christmas" with Simpson on an October 14 taping before they were told that their song performance had been cut.
"We had planned to do our song 'I'll Be Home for Christmas' with her on stage, we flew our families in for the event and were very excited, [we were] fans of Jessica's," singer Meredith Melcher said. "And then, closer to midnight, after a couple hours of waiting, we found out that our initial song had been cut."
Producers then asked the group if they wanted to sing a new song they had never rehearsed, to which the group declined because they had no chance to prepare.
"They suggested we do a new song, but that was one we had never rehearsed before and in the army we sorta have a thing where you train as you fight and we didn't really feel prepared to do that so we opted out of that," Melcher added.
Lauren Auslander, a spokeswoman for Simpson, told Fox via statement that the "song was cut due to time. Jessica was not even aware. She is wholeheartedly devoted to the troops … "
Auslander went on to say blame 4Troops' wardrobe of choice, green fatigues, was not what producers wanted for the show, a stipulation of which 4Troops says they were never informed.
"The production team for the show as a whole decided early on that the wardrobe for all of the performers should be formal … Production offered for them to be part of what became the finale song, but they declined."
"This is what we normally wear with every performance and we weren't aware of any wardrobe issues or anything like that," 4Troops singer David Clemo said. "We got the wardrobe notice late. We hadn't even heard anything about it."