'Jersey Shore' star Vinny Guadagnino slams Wendy Williams for 'fake news' story about him cheating on ex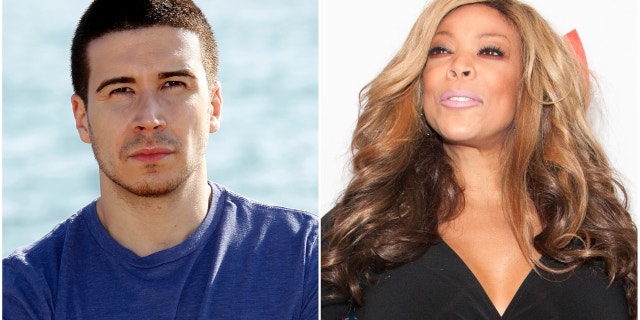 NEWYou can now listen to Fox News articles!
"Jersey Shore" star Vinny Guadagnino scoffed at Wendy Williams' tweet Tuesday regarding his relationship with his ex-girlfriend Elicea Shyann. The television host claimed Shyann was "flipping out" after seeing Guadagnino cheat on her during a recent episode of the MTV reboot.
"Lmao. 'Seeing him cheat.' Fake news," Guadagnino replied.
Williams provided a link on her website detailing the scandal, which included Guadagnino carrying a stripper and getting two cocktail waitresses phone numbers inside a club. Guadagnino was later filmed calling Shyann to come clean about his inappropriate actions — and she was not happy.
Shyann posted the "Jersey Shore" clip on Instagram after the May 17 episode aired, blasting Guadagnino for his "disrespect."
"Here's some free promotion!!!! for the trash everyone loves to watch. I'm a real f--king person who wakes up DAILY to more and more bulls--t and heartache," Shyann wrote in a since-deleted Instagram post on Saturday, according to Us Weekly. "Enjoy the f--king show that is my f--king life. Ppl wonder how ppl end up in the darkest places. Here's your answer."
Guadagnino revealed to People that the couple split last month after filming for "Jersey Shore: Family Vacation" wrapped up.
'JERSEY SHORE' FANS FIND MISTAKE IN MTV REBOOT'S SEASON PREMIERE, DEMAND ANSWERS
The reality TV star admitted his behavior was "disrespectful" and the situation wasn't "ideal," but he argued it shouldn't be classified as cheating.
"The word CHEATING? grow up," Guadagnino tweeted. "I can give other girls drunk compliments and still love and be loyal to my girl.. and that wasn't my phone it was the house itouch (we don't have phones)so that we can all turn up again as a group. (While still remaining loyal)<-impossible right ?!"
One fan told Guadagnino to own up to his mistakes.
"You literally carried a stripper & took numbers from girls. You can be honest but the action itself is still not ok and you need to take responsibility for that," a woman tweeted. "Realize that it would make any girl uncomfortable knowing her man did that, no matter the level of trust."
'JERSEY SHORE' STAR NICOLE 'SNOOKI' POLIZZI REVEALS HOW MUCH SHE EARNED DURING SEASON 1 OF THE MTV SERIES
Guadagnino replied, "If a girl is uncomfortable or upset about any action it could be addressed. But carrying a stripper 3 feet like a child, and telling our new waitress friends to hang out w/ our group again because we all were friends is CHEATING? We are drunk in clubs filming show havin fun."
The 30-year-old said it's unfair to paint him as a "monster." He said he called Shyann every night to fill her in on his day, though he says only certain phone calls made it on air.
"Everything on tv is heightened like crazy," he argued.
'JERSEY SHORE' STAR RONNIE REVEALS WHY HE AND SAMMI 'SWEETHEART' BROKE UP
After an hour of conversing with Twitter followers about his actions, Guadagnino said he had to sign off. But before he did, he took a minute to thank those who supported him.
"It's been fun. Thanks and respect to the people who understand the diff between crossing lines and CHEATING. Context and editing.And to the trolls and Fake News. Keep trollin. You are great people," he wrote.