Jerry Seinfeld turns down three hugs from Kesha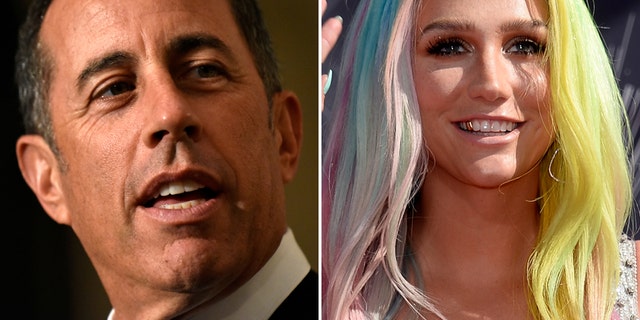 NEWYou can now listen to Fox News articles!
The feeling isn't mutual.
Jerry Seinfeld turned down a hug from his fan, singer Kesha...three times.
A video shows Kesha interrupting an interview Seinfeld was doing with a local news reporter ahead of the "Night of Laughter & Song" event at the Kennedy Center on Monday.
The singer wanted a hug from the comedian, but Seinfeld repeatedly declined, backing off and telling her, "no thanks" during the awkward exchange.
Kesha quickly walked away while Seinfeld laughed and told the reporter he "didn't know who that was." He said that he wished her the best after being told it was Kesha but still did not appear to know who the singer was.
The singer didn't seem too upset about the encounter, posting on Twitter on Tuesday that she has "lots to smile about."
The Associated Press contributed to this report.