Jerry Lewis' friend Deana Martin, daughter of Dean Martin, recalls favorite memory of late entertainer
Deana Martin, the daughter of Rat Pack legend Dean Martin, was heartbroken to hear the news of Jerry Lewis' passing Sunday at age 91.
The 69-year-old singer reacted to the death of her "uncle" on social media.
A rep for Deana told Fox News that she and Jerry stayed in touch over the years, and that one of her favorite memories of the late star was their duet for "Time After Time," which she and Jerry performed at his annual telethon.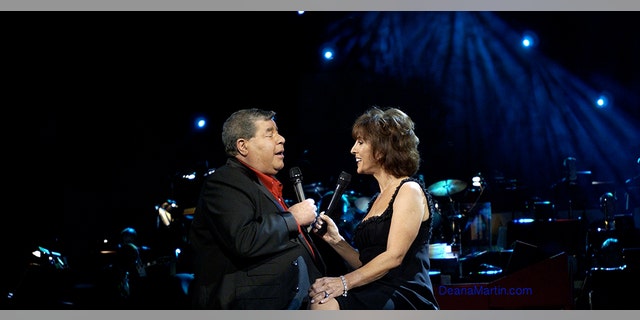 The comedy superstar first gained fame as part of the duo Martin and Lewis. Jerry teamed up with Dean in the summer of 1946 — first with a nightclub act, then radio and television appearances. Dean was recognized as the suave, debonair singer while Lewis was the zany, boyish sidekick with the huge grin and squeaky voice.
They went on to create a series of films together before the partnership ended in 1956 and both launched lasting solo careers in Hollywood.
Despite the separation, Jerry became a beloved friend of Deana's over the years. He wrote the foreword of her 2005 memoir, titled "Memories Are Made of This: Dean Martin through His Daughter's Eyes." He insisted the book captured "a great part" of his life.
"I felt my spirit soar from the get-go, and it kept me riveted — not so much because I love the subject matter as much as she does, if that's possible, but because I was there," he recalled. "I saw it all, I felt it all, and now I relive it all through the talent and commitment of a marvelous young lady who I adore more than ever before."
Jerry described how his former collaborator kept numerous photos of his daughter on-hand over the years.
"Dean was in there more than he was at the bar (I'm kidding)," he wrote. "I love this author for a myriad of reasons, but especially for how she honored my partner."
It wouldn't be until 20 years later after their breakup in 1976 when Jerry and Dean reunited at the Las Vegas MDA Telethon with the help of Frank Sinatra. The standing ovation from the audience lasted for more than a minute.
Vanity Fair reported it wasn't the last time they reconnected. For Dean's 72nd birthday, Jerry surprised his former partner with a cake. "Why we broke up I'll never know," he proclaimed.
Dean died in 1995 at the age of 78.
Jerry's manager Mark Rozzano told the Associated Press he "passed peacefully at home" of natural causes with "his loving family by his side."