Jenny Mollen shares shocking nude photo of her rapid weight loss
Actress Jenny Mollen shared a shocking photo of her rapid weight loss Wednesday and attributed it to a thyroid issue she started experiencing after she gave birth to her second child.
WARNING: POST CONTAINS SENSITIVE MATERIAL AND GRAPHIC LANGUAGE
Mollen, 38, posted the photo of her naked, thin body on her personal Instagram and urged others to get checked if they were experiencing rapid weight loss after giving birth.
"Not anorexia, it's a thyroid issue. I don't know what it says about me that I got this thin and didn't think there was anything wrong," the former "Angel" actress wrote.
'LATE SHOW WITH STEPHEN COLBERT' WRITER SLAMMED FORINSENSITIVE BARBARA BUSH TWEET
"Last Friday, I had a bulge in my neck that finally got me to the doctor. I'm STILL waiting on blood work but my doc thinks it's Graves," she continued. "If you just had a baby and have lost an inordinate amount of weight, feel like you are on cocaine, are suddenly heat intolerant, and can't stop losing hair, and feel like your husband is being a d--- it might just be your thyroid!! Get checked ASAP."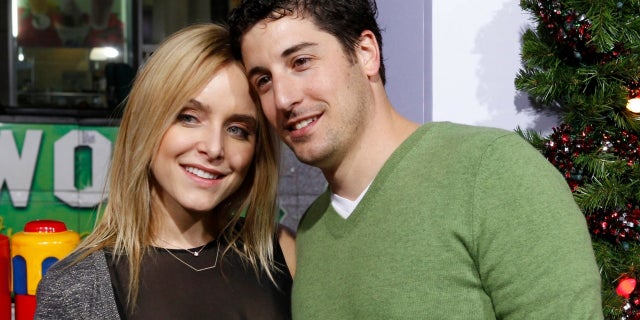 Graves disease is described as an "autoimmune disorder that causes hyperthyroidism, or overactive thyroid," according to the National Institutes of Health.
Mollen and her husband "Orange Is the New Black" star Jason Biggs have two children together. They introduced their second child, Lazlo, in October.
GWEN STEFANI SAYS BLAKE SHELTON'S EX HAD HER FACE 'PLASTERED OVER HER WHOLE BEDROOM'
The actress who is also a New York Times best-selling author addressed her weight loss on Friday.
"Many of you have written and asked me about my rapid weight loss. Weight loss that to be honest, I couldn't really explain until now," she wrote in an Instagram post. "This morning I woke up with a giant bulge in my neck the size of a golf ball. I had blood work and an ultrasound and will be waiting for the results over the weekend."
Mollen continued that she believed her weight loss was from hyperthyroidism which occurs to many women after their pregnancy.