Jennifer Lawrence: 'I was sobbing' at Amy Schumer's 'sudden' wedding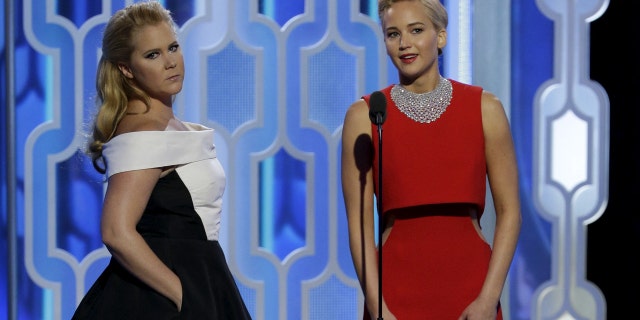 Jennifer Lawrence was so happy for her good friend Amy Schumer and new husband, Chris Fischer, that she cried during the comedian's sudden wedding ceremony.
In an interview with Entertainment Tonight, Lawrence revealed new details about Schumer's Malibu wedding.
"It was beautiful," Lawrence said. But even the close friend of Schumer admitted that the nuptials were a bit abrupt. "It was very sudden, but it was, I was sobbing... his vows were stunning. It's when two people really love each other and they really mean it, it shows, and it was a beautiful ceremony and an amazing time. I couldn't be happier for them."
Lawrence was photographed at her friend's wedding sporting a pink Philosophy dress and joked that the styling of her outfit could have been interpreted as the actress trying to steal the spotlight from Schumer on her big day.
"Notice my shirt was accidentally undone the whole time," she said. "In every wedding photo all of my buttons were undone. It looks like I was like, 'Oh, you thought this was going to be about you?'"
The "Red Sparrow" actress went on to say that despite the beautiful Malibu setting, she admitted that the "beachy" vibe isn't her thing.
"A couple people wanted to go down and walk on the beach and I was like, 'No. I don't get the beach. I just don't care,'" she said.
On Thursday, Schumer shocked fans after posting a series of photos from her wedding on Instagram.
The star, who was rumored to have begun dating her now husband back in November, had just made their relationship Instagram official after posting a romantic photo from friend Ellen Degeneres' recent 60th birthday bash.
The intimate wedding, which took place on Tuesday, reportedly included 80 guests at a rented Malibu residence.
For those who questioned the hasty nuptials, Schumer posted a response on her Instagram which stated that she was not pregnant and instead of wedding gifts, she urged friends to send donations to gun safety organization, Everytown.
Other celebrity guests who attended the wedding included Larry David, Aidy Bryant, Vanessa Bayer, Rachel Feinstein and Chelsea Handler.