James Corden doesn't drive during 'Carpool Karaoke' stunt segments
James Corden was caught filming the next episode of the highly popular "Carpool Karaoke" segment from "The Late Late Show with Jame Corden."
A fan snapped the CBS team in action and posted a video Wednesday on Twitter that showed the Range Rover on extra wheels being pulled by another large truck. "Saw James corden and Justin Bieber filming carpool karaoke and this is why I have trust issues — he isn't even driving!" described the user.
In fact, according to a publicist for the show, Corden does actually drive the car.
KANYE WEST SAYS 'GOD'S ALWAYS HAD A PLAN' AS HE PERFORMS 'JESUS WALKS' ON JAMES CORDEN'S 'CARPOOL KARAOKE'
"James always drives during 'Carpool Karaoke.' However, on the rare occasion when there is a stunt component and the producers feel it is unsafe to drive, we will use a rig (tow)," the statement to Fox News reads.
"Carpool Karaoke" won Emmy awards in 2017, 2018 and 2019 for Outstanding Short Form Variety Series and another Emmy in 2018 for Best Variety Special (Pre-Recorded) for his mega-hit ridealong with Sir Paul McCartney.
JAMES CORDEN AND ADAM LEVINE'S 'CARPOOL KARAOKE' INTERRUPTED BY POLICE
Some other major guests include Bruno Mars, Madonna, Lady Gaga, Britney Spears, Miley Cyrus, Selena Gomez, Adele, and former first lady Michelle Obama.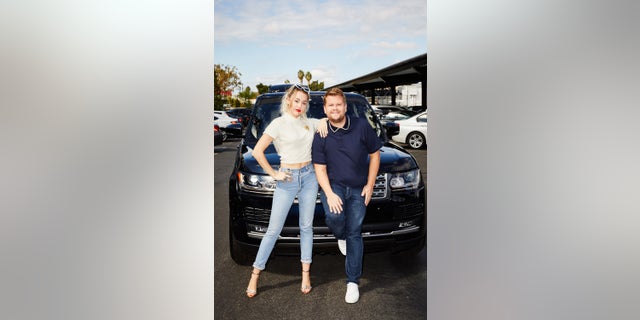 Corden was filming with Justin Bieber on Wednesday in Hollywood, Calif. The singer just dropped his new single "Yummy" and has an album coming out in 2020.
CLICK HERE TO GET THE FOX NEWS APP
Corden previously spoke to Deadline about why he thinks the segment is so popular.
"We had to find the things that would define our show," he said. "The trick is to just make something good; if you make something good for your show, people will share it the next day."