'Jack Ryan' star John Krasinski 'nerded out' on CIA operatives during show: 'I wanted to meet spies'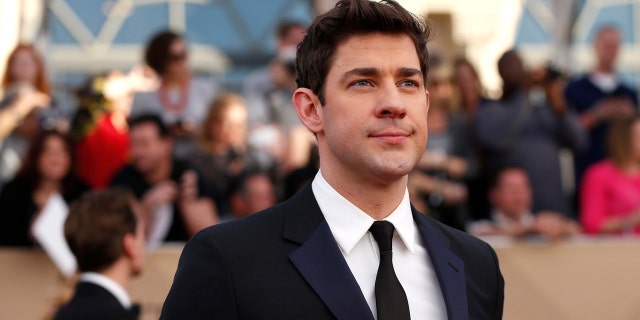 NEWYou can now listen to Fox News articles!
LOS ANGELES – John Krasinski couldn't contain his excitement when he was given the rare privilege of sitting down with CIA personnel while filming Amazon Prime Video's new series "Tom Clancy's Jack Ryan."
"I have to say, I completely nerded out when I went to see them," Krasinski, 38, told Fox News Friday during the series premiere at the Battleship USS Iowa to kick off LA Fleet Week.
"I will say I also thought that it would be the most uneventful interview I've ever had in my life because I thought every answer would be 'We can't talk about that,' and instead they were the most unbelievably diverse, intelligent, giving and generous group and we are so lucky to have them."
For his meeting, the "Office" alum spoke about his time in the 2016 Michael Bay film "13 Hours: The Secret Soldiers of Benghazi." He was unsure of what would come away from his conversation with the CIA other than the sensationalized Hollywood account of what's been shown.
"To be honest, I think I went in there very similar to '13 Hours' – I think I went in there with a more Hollywood version of what I was expecting and what I wanted to get out of it," he said.
"So, for '13 Hours' I went in there really wanting to learn about the warrior and I think what I really ended up coming away with was being proud to get to know these men."
Krasinski continued: "And, I think that's how I feel about going to the CIA, I went in there wanting to meet spies and wanting to meet officers, and instead I met incredibly dedicated people and very honorable people and people who are putting their lives in the line in a whole different way. And, if chosen to do that selfishly – I don't know, there's nothing more heroic than that for me."
During Fox News' conversation with the "A Quiet Place" star, he never wavered on his affinity for the men and women who serve our nation and even praised the boy scout-like nature of his Jack Ryan character, who Krasinski says is as normal a hero as they come.
"For me as a person, Jack Ryan ever since I was a kid, he's one of those people who doesn't have a cape and he doesn't shoot things out of his hands – he's guy who uses his instincts and his brain," Krasinski explained.
"And more importantly, there's a lot of jokes in the show about him being a boy scout and I don't know – I kind of thought it's about time that we had a boy scout on television as a hero now."
Krasinski elucidated that the work he and his band of cast-mates and crew members did filming "Jack Ryan" pales in comparison to the everyday efforts the CIA members and our troops.
"I'm a big anti-hero fan. I love 'Homeland,' I love 'Breaking Bad,' but maybe it was time to have a good guy out there for once and I was really excited to do that," he said.
"I certainly am inspired to at least have the opportunity to play someone who's representing a community like the CIA."
"You realize by doing a show like this how lucky we are to have those people on the front line for us because it sure as hell wouldn't want to be me because you wouldn't want me out there, you'd want the real people."