Is 'Trump bashing' the new celeb nude selfie?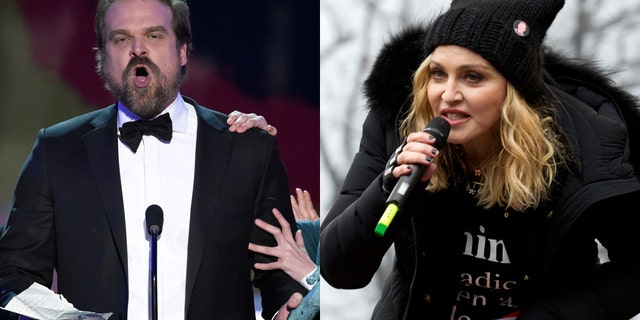 NEWYou can now listen to Fox News articles!
Stars used to take racy snaps to get attention on social media, but lately, experts agree the quickest way to make headlines is to bash President Donald Trump.
There've been a lot of celebrities who've gone after the president in recent weeks -- too many to name -- from Meryl Streep to Robert De Niro to John Legend.
And some of the stars chiming in about politics are nowhere near A-listers, but they are making headlines anyway by saying outrageous things about Trump.
Like who? "Stranger Things" star David Harbour made news for his anti-Trump statements at the SAG Awards; Director Joss Whedon has garnered attention for his comments about Ivanka Trump; Former "House" actress Lisa Edelstein tweeted Alan Thicke died to avoid the "Trumpocalypse" and St. Vincent live tweeted during Trump's inauguration.
FANS FURIOUS WITH JOSS WHEDON'S IVANKA TRUMP TWEET
Vice President of Business & Culture for the Media Research Center Dan Gainor said stars seeking attention often get involved with liberal causes.
"This isn't new. Hollywood celebs have long been picking left-wing causes to build credentials. Instead of trying to seem reasonable, they've joined the rest of traditional media and fallen off the deep end," Gainor said.
Debra Messing recently took to Twitter to protest Trump's proposed wall between the U.S. and the Mexican border, joining a "virtual protest" in solidarity with Muslims and immigrants.
Dr. Karen North, professor of digital social media at University Southern California's Annenberg School, told Fox News some stars mean what they are posting and others want to boost their social media followers.
"These are volatile times and people are passionate about their beliefs," she said. "There are actors using their celebrity to help people understand their opinions and there are people whose following will grow because they are able to strike an appealing voice politically."
Gainor went as far as to suggest that some A-list celebrities, like Madonna, are using the backlash against Trump to be relevant with a new, younger audience.
MADONNA GIVES PROFANITY-LACED SPEECH AT WOMEN'S MARCH IN WASHINGTON
"Madonna was a great performer in her day. It's not her day anymore... She's always been a brilliant woman. You've gotta reinvent yourself at some time, but that's what she's doing. I bet her revenue from iTunes has gone up. That's embarrassing," Gainor said.
Eric Schiffer, chairman of Reputation Management Consultants, told Fox News even though some celebrities vehemently oppose President Trump, many are using the political atmosphere in Hollywood to connect with left-leaning producers.
"…There's a subset [of stars] who are using it as a marketing tool with producers to align themselves and seem more likeable and marketable… It's a bonding hook particularly for celebs who've gone from C to D-list -- it's a way to put some gas in the gas tank and not be stuck in a rat hole," Schiffer said.
Schiffer said agents may be telling their less famous clients to hop on the anti-Trump bandwagon.
"A lot of the guys supporting Trump haven't done anything in a while. So, they're not risking much. But, if you're speaking out against Trump and you're an actor, you're doing exactly what your agent says and they will pat you on the shoulder for it."
Gainor agreed, adding, "It's almost like press agents are producing half of this stuff."
In the end, North says, there's no doubt, that for people who want to grow their following, whether they're celebs or activists or brands, interacting with the public on trending topics is a way to be seen and heard and to increase their following.