Is 'Love Affair' Between Meryl Streep and Sandra Bullock Finally Over?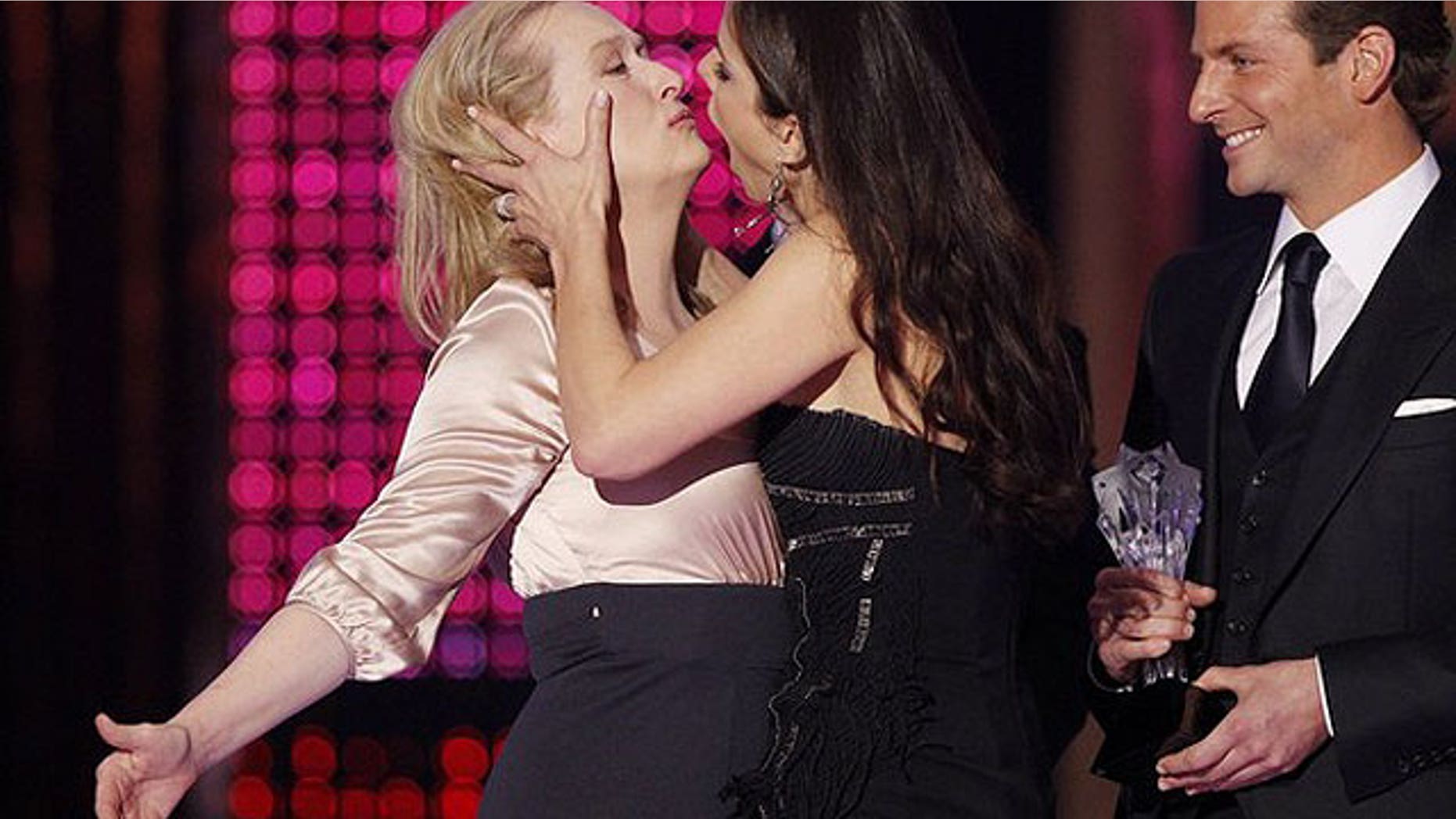 It has certainly been Sandra Bullock's year – the 45-year-old actress has taken the honors at every major awards show this season for her role in "The Blind Side." But along the way we've had to hear over and over again about her girl-on-girl good times with fellow nominee Meryl Streep. But with the 2010 awards season now officially over, can Bullock finally find something else to talk about?
"No one expects Meryl to roll with the flow like that; I think no one realizes how much fun Meryl Streep is.  I'm not going to tell you half of what she'd do or what she's done," Bullock enthused after winning the Academy Award for Best Actress in a Leading Role on Sunday evening. "She's an awesome broad, and I think she's an extraordinary actor but she's also a really free, fun human being ... I kissed Meryl.  No one's ever taken the bull by the horns like that before, but I did."
The "love affair" between the two leading ladies started in early January after they were announced as joint winners of the Critics Choice Award and an excited Bullock drew Streep in for a mouth kiss on stage. She then bragged backstage that it "just doesn't get any better" than "sharing the stage with Streep, because of the woman she is …"
SLIDESHOW: The Oscar's Best Dressed Stars
A smitten Bullock couldn't help raise the issue a few weeks later at the SAG Awards when she gushed that we just had to know that Streep was "divine and a very good kisser." She also opened up about the now-famous lip lock to David Letterman and paid homage to Streep yet again at the Golden Globes. And last night's show was no different. Despite Oscar winners being under strict instruction to give an onstage acceptance speech lasting no more than 45 seconds, Bullock still managed to give her lady "lover" two shout-outs.
Fox411 Exclusive: Sandra Wasn't Concerned About Speech Length
And while only time will tell, we're hoping that without any more award shows to discuss the kiss, their little fling is now officially over.
And although Bullock is considered to be the "Best Actress" of 2010, she also made history as the first ever movie star to take home the "Worst Actress" of the year title too. On Saturday night Bullock proudly took home the Razzie (considered to be the anti-Oscars, an awards show that celebrates the worst performances of the year) for her role in the comedy "All About Steve."
"(The Razzie and the Oscar) are going to sit side by side, as they should. They're both in the entertainment business.  That's what we're supposed to do, you take the good with the not so good," Bullock told us on Sunday night. "It probably means more that both of them happened at the same time because it's the great equalizer. Nothing ever lets me get too full of myself.  It quickly chops me off at the knees, and I like it that way because it just it keeps things stable and they'll sit side by side in a nice little shelf somewhere."
SLIDESHOW: The Oscar's Worst Dressed Stars
On the note of Academy Award winners, "Best Supporting Actress" recipient Mo'Nique still refuses to be dubbed "an actress" despite winning the coveted award for her work in "Precious" during Hollywood's Night of Nights.
"I am a stand-up comedienne who won an Oscar," she insisted, while "Best Actor" Jeff Bridges somehow seems to be under the impression that his Oscar win will bring about World Peace.
"This award will help bring peace and understanding and prosperity to our world," Bridges said triumphantly in the press room. But when everyone started to laugh out of confusion, the "Crazy Heart" star quickly tried to explain himself.
"Movies are more than just entertainment, they are connecting us," he added. "And music is the same way.  We have a movie about music here, but music and movies are a common link for all of us.  And I am hoping that this will kind of raise my profile, and I am all about getting us all together, getting the world healthy."