Is Ashton Kutcher's dating service send-up a slap in Demi Moore's face?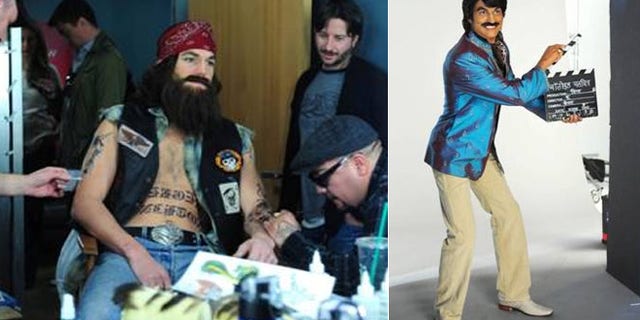 LOS ANGELES – On the heels of his now defunct six-year marriage to Demi Moore, Ashton Kutcher is relishing his "single and looking" status all the way to the bank.
On Wednesday, the "Two-and-a-Half Men" star released a comedic video for the fictional World Wide Lovers Dating Service (powered by popchips, of which Kutcher is the president of pop culture) playing the role of multiple different bachelors looking for love.
Bollywood producer Raj, 39, is after the "most delicious thing on the planet" – he'd even "throw that dog (Kardashian) a bone." Then there is 24-year-old pot-loving hippie Nigel, a Karl Lagerfeld looking fashion diva named Darl who shares food with his little pet pooch, a spiritual biker dude named Swordfish who is seeking "something spicy," and finally a "normal" preppy-dressed Kutcher enters the room.
"Your waiting room is like a freak show. Are we all in the same category?" he asks, ahead the tag line: "Life is Short. Find Your Perfect Match."
But is Kutcher's oh-so-humorous quest to find a lady lover a slap in the face to ex Demi, who suffered a scary breakdown and checked into rehab in the aftermath of their ruptured relationship?
"This is just a fun video he put together since his love life is clearly a hot topic these days," a Kutcher insider said of the tongue-in-cheek creation.
No word on how "fun" Moore think it is.
Since parting ways with Moore last November, Kutcher has also been linked to Rihanna and most recently his former "That 70's Show" co-star Mila Kunis.