Iron Maiden's Bruce Dickinson recalls meeting Johnny Cash, fighting cancer in new memoir
Iron Maiden has sold over 90 million albums and played over 2,000 shows in 63 countries since their formation in 1975 — but one person who nearly left the band's singer speechless was The Man in Black.
"It was very brief and really quite awe inspiring," Bruce Dickinson told Fox News. "Because I've always admired Johnny Cash… I love him because he's got this rebellious maverick thing going on with him."
The 59-year-old frontman recalled meeting Cash in his new autobiography – "What Does This Button Do?" – along with his own personal journey in leading one of the most recognizable English heavy metal bands in music history for about 40 years.
"I met him a long time ago… in Toronto when he and his band came and they were sitting, watching us do a soundcheck," said Dickinson. "And he came backstage after we finished. And I'm not exactly the world's tallest guy. I'm like 5'6" and a half — and make sure you get the half in, you know? And Johnny Cash, I'm not even going to guess, but as far as I know, it was a lamp post that came in dressed in a coat.
"This was like meeting John Wayne... Just wow. And he was just the most charming, quietly spoken guy… He said, 'Hi, My name is Johnny Cash… Look, can you sign an autograph for my daughter? She's a big fan.' So I went, 'Yeah, of course.' And that was it! But, he was fantastic… and exactly what a legend should be."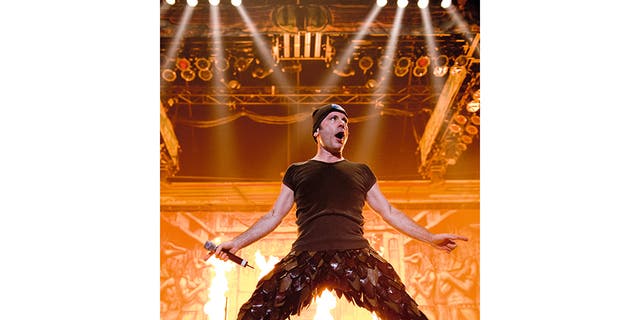 But not all of Dickinson's memories with Iron Maiden were positive. The man behind the operatic, tower-shattering scream insisted that, unlike other rock stars, he's always managed to avoid drugs. It may not be a popular choice within the music scene, but frankly, Dickinson doesn't care.
"Well, you just don't take them," explained Dickinson. "It's as simple as that. It's not difficult, is it? I mean, you're surrounded in one way, shape or form by, particularly in the '80s, people who've taken rather too much cocaine or smoked rather too much marijuana. I mean, the big issue in the '80s was cocaine. It was rampant.
"And for all I know, it still is. It's probably some different drug. I'm a little bit out of of the loop of what drugs are popular or unpopular because I don't know nobody who takes those kinds of drugs. But cocaine was the thing. And just cocaine turns you into a stupid, self-confident ass. And what's worse? You're boring with it."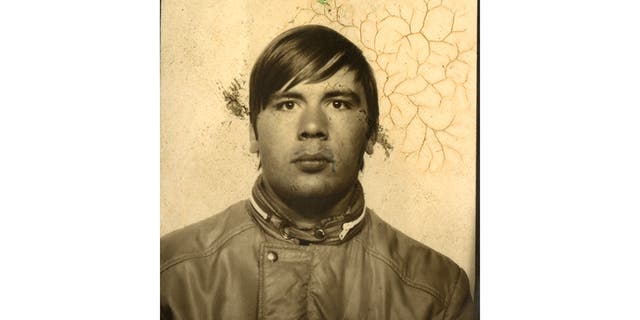 But it wasn't the drugs that nearly made Dickinson quit Iron Maiden as early as 1984 during the band's heydey. It was the grueling, no-nonsense "Powerslave Tour."
"It was just simply burnout," he explained. "… I've been on the road for 3-4 years, [and] apart from roadies and the people you meet in the rock 'n' roll madness, the only [thing] that kept me sane were fencing clubs, which I used to go off and take my kit and run away on days off and do that, to try to keep my sanity… I just really questioned whether or not music, fame, money and everything else was worth it. And I was pretty close to the decision that maybe it wasn't. I would just walk away."
Dickinson left Iron Maiden in 1993 and he didn't return until 1999. During his break, Dickinson pursued music as a solo artist, all while reserving time to pick up his sword as a competitive fencer. But these days, he keeps busy pursuing a lifelong passion — flying planes.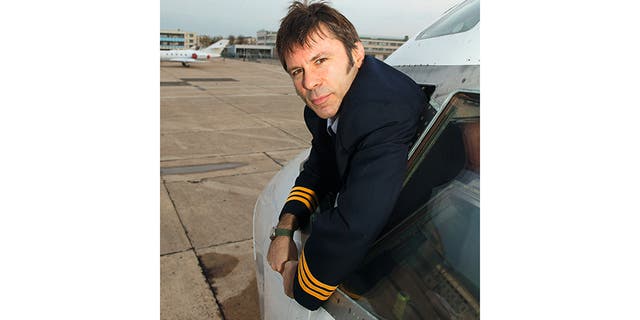 "It was quite literally a revelation," said Dickinson on being a pilot capable of flying a Boeing 747. "I had this incredible moment of apprehension when I realized how close to ground it was. But as soon as we got away from the ground… the happier I was. I was in the air.
"I realized the complexity of the world that I was in… and the fact that you could never, ever know this activity... you would never fully know what was going to happen next or understand exactly what was going to go on for your day. And that I found incredibly exciting."
Dickinson recently piloted Ed Force One, which is named after Iron Maiden's devilish mascot, carrying the band, its entire crew and over 20 tons of equipment around the world.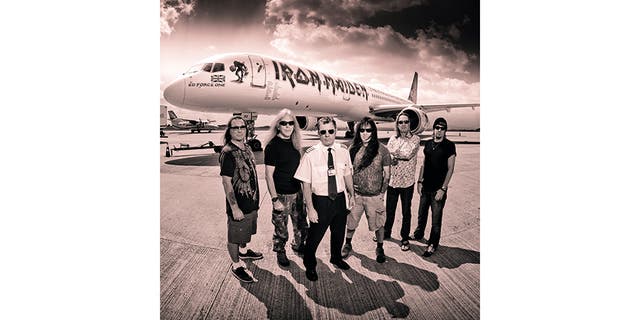 But Dickinson's life nearly came crashing down in 2015 when he was diagnosed with tongue cancer. Doctors found a cancerous tumor at the back of Dickinson's tongue after a routine check-up. Still, he was determined to stay confident during his health ordeal.
"I guess I had to take a long, hard look at myself… So what am I going to be like? How am I going to be just grumpy, aggressive, snappy and [feel] sorry for myself?" he explained. "I thought there must be a better way of doing it. Because I actually thought of getting angry with it, like in my head. Like, I would visualize angry things. Like sticking pins in all these nasty cancer cells. And I remember one evening going, that's absolutely exhausting. I mean, why exhaust yourself? The chemo and radiation is already doing that. That's sticking plenty of pins in.
"Why don't you just look after yourself and feel good about yourself and just get on with it? And behave as if this were an aberration and not a permanent fixture. Maybe that's the best way of dealing with it. And that was my choice… And I'm not a terribly negative person in general. So the idea of being wholly negative for six months went completely against my personality... I have to think of it in a positive way. So that's where it came from."
Dickinson is now cancer-free and still achieving success with Iron Maiden.
"There is no secret," he described on the band's lasting legacy. "You go out, you tour and you do great shows. You do albums, which we hope are interesting and certainly within our own niche. We stay in touch with our fans and yes, we do that through social media and also through playing live.
"And also, we try to do things with integrity, which means we don't indulge in the cult of celebrity, turning up to the opening of an envelope, because you might think you'll end up in Hello! Magazine or whatever the equivalent reality show is that's currently going on about people with their faces made up to look like fish."