'Inglourious Basterds' Stars Silent on Brad Pitt's Whereabouts at SAG Awards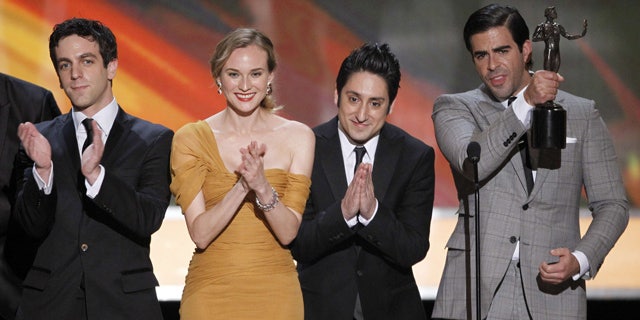 Exclusive: Brad Pitt's Co-Stars Go Silent on His Whereabouts; Sandra Bullock Raves About Locking Lips with Meryl Streep and Jeff Bridges "Upset" With Haiti Telethon
In the wake of reports that Brad Pitt and Angelina Jolie have signed separation papers, it was no surprise that the actor was a no-show to the Screen Actors Guild Awards on Saturday evening despite the fact that he and his "Inglourious Basterds" co-stars took the trophy for "Best Ensemble Cast in a Feature Film."
Click here for reports on the Brangelina split.
After happily chirping about the fact that director Quentin Tarantino was probably downstairs "getting drunk," how they watched Brad Pitt the night before in Clooney's Haiti Telethon and how much they all like each other, the cast suddenly fell silent when Pop Tarts asked why Mr. Pitt wasn't present at the special ceremony.
"You've got Jacky Ido (a fellow cast member) all the way from France," Eli Roth eventually said to break the awkward silence.
However just a week earlier Roth was more than happy to talk about the A-list actor.
"He (Pitt) is probably running the 18 kids he has or whatever he's up to right now," Roth joked. "I was really impressed that he does not read the tabloids. If everyone was writing stuff about you all the time I guess you'd go crazy but he genuinely tunes out and focuses on his family and his work. Obviously he's aware that he's the biggest star in the world, but you wouldn't know it. You would never know he's life was like that outside the set."
But according to a source close to the SAG production, Pitt was expected to attend the awards show prior to news of the sudden split. However another insider told us that he and Angelina had decided to "take this awards season off" and had no intention of making an appearance.
Meanwhile it seems Sandra Bullock is still smitten by the girl-on-girl action she had with Meryl Streep at last weekend's Critics Choice Awards and couldn't help but bring it up again.
Click here for Angelina Jolie photos.
Click here for Brad Pitt photos.
"Sharing a Critics Choice award with the divine and very good kisser Meryl Streep … wow. I have to make sure we know that," she gushed to Tarts backstage after her win, adding that she didn't know if her hubby Jesse James had seen the now-famous lip-lock but was positive "he would like it."
"I told my husband this is the last (awards show) he had to come too," Bullock said when we quizzed her on how she felt about her Oscars chances. "It makes it so much fun having him here though, we make it date night. We don't take it so seriously and have a good time. We're starving."
But back to George Clooney's Haiti Telethon, it turns out that there was someone who had a small bone to pick about the affair.
"I was a little upset, it was a little hard to get through because the lines were so busy," 'Best Actor' Jeff Bridges lamented. "We were persistent and did get through with our contribution. $58 million I heard they raised, that shows you what our guys in Hollywood can do. People like George Clooney, Sandra Bullock and Kevin Bacon are so inspiring to me. That's the upside of being a celebrity, the downside of celebrity is you lose so much anonymity and that's not so fun. But the good side is that you can bring attention to Haiti and hunger in our own country and stuff like that. I hope this award can bring some peace and prosperity."