In "Sucker Punch" Oscar Isaac Brings Villain Blue Jones to Life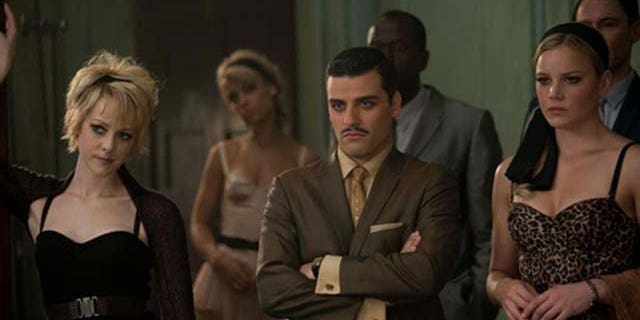 With action, thrills, and more than a dose of imagination, Cuban-Guatemalan actor Oscar Isaac is giving his fans a taste of "Sucker Punch."
The movie provides an intense ride into the mind and alternate reality of "BabyDoll"—a teenage girl stuck in a mental hospital against her will, and longing to escape. Together with a group of rough and tumble loyal girlfriends, she manages to break free.
Isaac vividly recalls reading the script and instantly being drawn to the "wonderfully, weird, bizarre" multi-genre production. He loved the idea of playing the complex villain named Blue.
"Blue is feared but also loved," says Isaac. "He is pathetic and broke."
"He is very different from anything I've done. He is probably the darkest character I've ever played on film," he added.
"It's a fun, entertaining wild visual treat. I want him to be a treat to the audience. I want him to be the person you love to hate and hate to love," he says.
Isaac says that playing Blue felt as though he was playing two different roles. But working with Zack Snyder, the director of the film, gave him room to fully bring Blue to life.
"Zack was collaborative and open to different ideas," Isaac says. "There are two different realities happening. It's cool to show these realities."
Isaac also acquainted himself with an unexpected and challenging theater-like performance.
"We had this big dance… it was a five minute piece," recalls the actor. "We had to do it in front of all the extras… a live audience."
Reminiscing on his career as a Latino working-actor in Hollywood, Isaac says he feels "pretty fortunate" never to have been typecast in stereotypical roles.
"In my first movie, I played a Russian gangster," says Issac. "A lot of it has to do with chance. I knew someone who knew and taught me how to do Russian accents."
"I think theater is pretty important. Study the classics like Shakespeare. Don't be pegged to anything. The actors I admire most went to conservatory and know their Greek tragedies," he says.
Issac is excited to continue working on visually-rich films in the near future. He's been collaborating with Madonna on her film "W.E.," in which the legendary singer will be directing him.
"It's a surreal experience to have the person behind the camera be this iconic woman," he says. "I play a Ukranian… she thought I was Russian," he remembered and laughed.
You can reach Alexandra Gratereaux at: Alexandra.Gratereaux@foxnewslatino.com
Or via Twitter: @GalexLatino
Follow us on twitter.com/foxnewslatino
Like us at facebook.com/foxnewslatino