Idols' advice on choosing new judges? Pick us!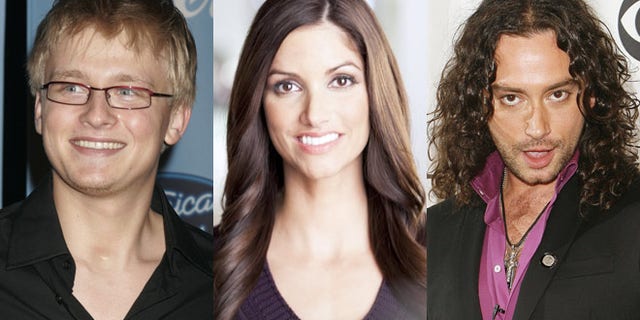 While "American Idol" remains a ratings juggernaut, its numbers have been in decline for some time. In 2012 alone it lost about a quarter of its viewership, and received its lowest rated finale ever.
With last week's departure of its two pop music icon judges, Steven Tyler and Jennifer Lopez, both recruited to fill the void after superstar judge Simon Cowell left to start his own show, the future of "Idol" is anyone's guess.
As "Idol" execs hunker down to plot their next move, FOX411 spoke to some folks with firsthand knowledge of how the show works, and how it could regain its footing.
[pullquote]
"American Idol" Season 4 contestant and Tony-nominated actor Constantine Maroulis said "Idol" should shy away from hiring judges who are so famous they overshadow the contestants.
"I know ['Idol' producer] Simon Fuller would love to see it come back to the contestants, not superstar judges," Maroulis said. "I would love to see Idols like Carrie, Lambert and perhaps myself up there."
But if Fuller and his team are leaning the other way, Maroulis said they should swing for the fences.
"If not, I would go really big -- Bono, Jagger, Madonna," he said.
"Idol" Season 4 contestant Anthony Fedorov, who currently stars as Roger in "RENT" Off-Broadway at the New World Stages, shares Maroulis' sentiment regarding the new judges.
"I think it'd be fantastic to invite former 'AI' alums to be guest judges, because it would certainly provide a unique perspective since we all know what it's like to be on both sides of the table, and we have intimate knowledge of what life is really like after 'Idol' is over," he said. "The one thing I don't want to see is someone who isn't qualified to judge on the show."
(Read: Charlie Sheen.)
Kristin Adams, an "Idol" Season 1 finalist and television personality on FX, thinks the show is going to have a tough go no matter what because its TV competition is stiffer.
"This genre is definitely more saturated than when 'AI' first launched, they started it after all," she said. "However, 'AI' has something that their competitors do not: novelty and tradition. It's been on for over a decade and has become the singer's 'American Bandstand' of our generation. Parents and children, young and old, faithfully sit down to watch together every week. If they make the right choices as to who should fill the open judges' seats, I think it definitely has a few solid years left on television."
All three "Idol" alums agree that no matter who the judges are, the real stars are not the celebrity panelists, but the "Idol" contestants.
"At the end of the day, the show is about the talent, and not about what celebrity judges they are going to get," Fedorov said.
"The show has been around 11 plus years. Not many shows can last that long," Maroulis added. "There will always be interest in the contestants and solid ratings. Will there be 25-30 million like when I was on? No, but they will bring a new crew in and revitalize the show yet again. It will last as long as it wants to."