Hugh Hefner Talks Monogamy, Miley Cyrus and Marijuana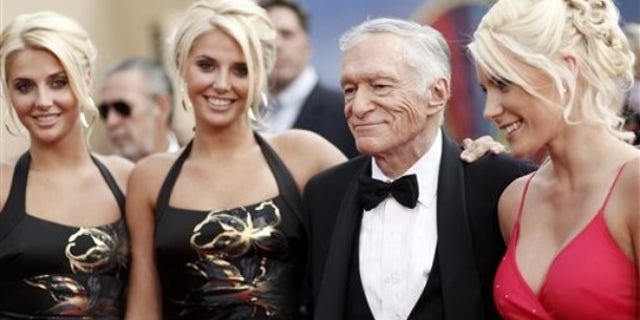 LOS ANGELES – In light of the countless celebrity cheating and sex scandals of 2010, Playboy's legendary founder Hugh Hefner says it all boils down to his original theory that human beings are not meant to be monogamous.
"I think that monogamy is something that has been invented along the way to take care of children," he explained.
Speaking of children, Disney darling turned racy pop star Miley Cyrus enters adulthood as she celebrates her 18th birthday Tuesday, and we couldn't help but ask if any offers were on the table for her to make her "adult" status a little more official with an appearance in the men's magazine…
"The simple answer is she is the one that you and all the other readers would like to see," Hef said coyly. "That person changes every month and year, it depends on who the hot celebrity of the month is."
The 84-year-old is reportedly still vying to spend $123 million to buy back the outstanding shares in his beloved Playboy Enterprises Inc., which was founded to manage the Playboy magazine empire, and even though rival publication Penthouse is willing to dish out even more money, Hef controls 70 percent of the voting thus it's likely the enterprise he built in 1983 will remain in his hands
And he certainly has plans to build the "Playboy" brand far behind its glossy pages, and bounce the bunnies all over the world.
The market for magazines and books and newspapers is changing and everything is becoming electronic so we're shifting the focus," Hef added. "The magazine remains the heart and soul of the company, but increasingly the end of it will be driven by the casinos and Playboy products around the world. The brand itself, despite all the economic problems, the brand itself is hotter than ever."
But our interview with the icon wasn't all about business, pop culture and relationship advice. He also shared his thoughts on California voters striking down bids to legalize marijuana.
"I don't think there's any question that marijuana should be legalized because to not legalize it, we're paying the same price we paid for prohibition," he told Pop Tarts last Wednesday, before receiving the Award of Honor & First Amendment Awardat the PEN Center USA's 20th Annual Literary Awards Festival in Los Angeles. "In other words, it is a medical concern and it should be handled that way."