How to Make Ballpark Favorites in Your Own Backyard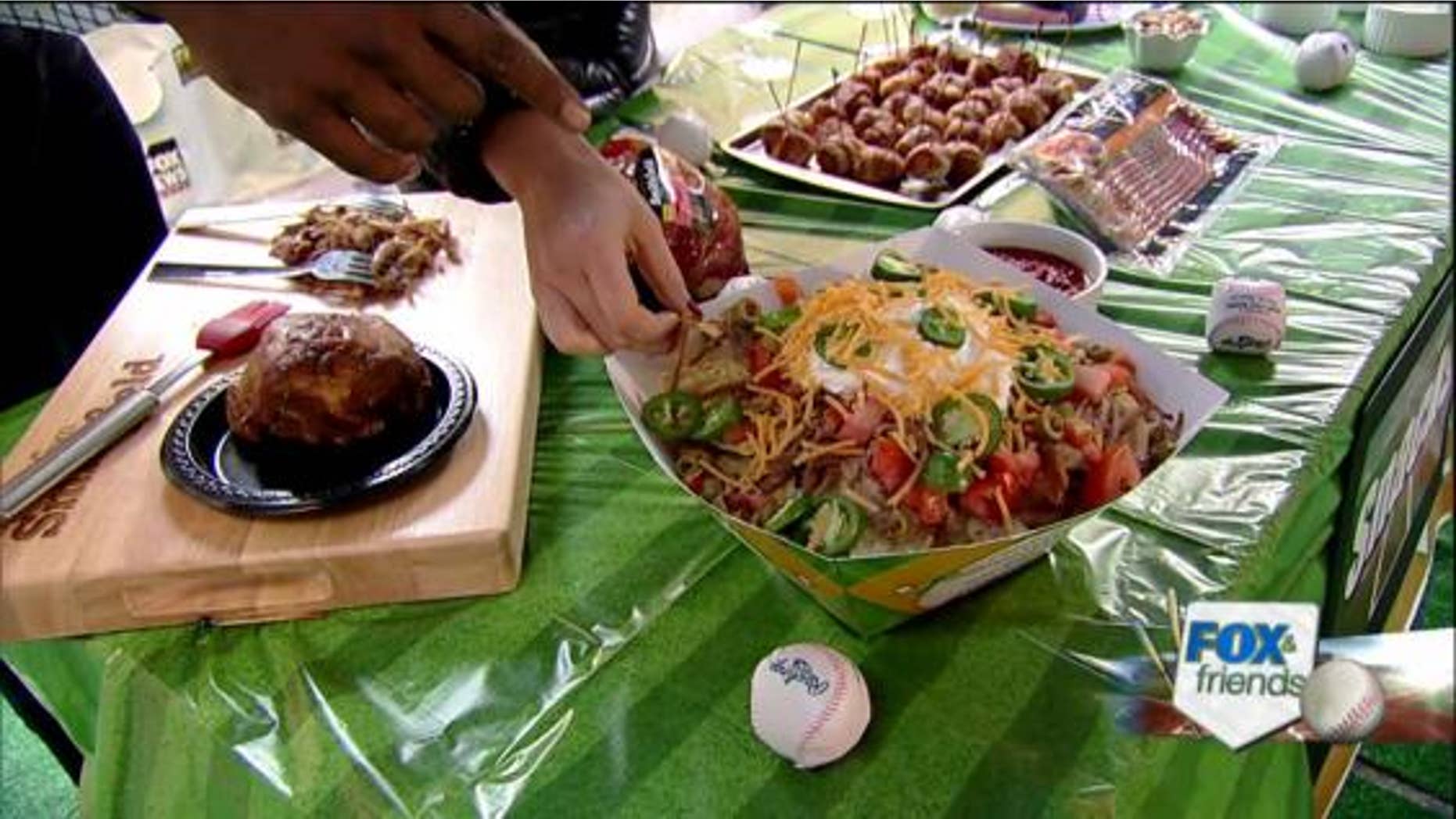 HONEY CHIPOTLE CHILI DOGS
Ingredients:
1 can (21.5 oz.) BUSH'S® Honey Chipotle Grillin' Beans®
12 oz. sauce-less pulled pork, fully cooked
5 all-beef hotdogs
5 hotdog buns
1 tbsp. chopped Napa cabbage or coleslaw
1 large avocado, pitted, peeled, and sliced
1 c. (8 oz.) Mexican-style shredded cheese
Optional:
Lime wedges
Diced jalapeños
Sour cream
Diced tomatoes
Instructions:
In medium microwavable bowl, mix beans and pulled pork. Heat in microwave on high for approximately 2 minutes or until warm.
Grill or cook hotdogs and place in bun.
Place ¼ cup of pulled pork and beans on top of each cooked hotdog.
Top with cabbage or cole slaw, avocado and 1 tablespoon cheese.
Serve with lime wedges, jalapeños, sour cream and tomatoes, as desired.
*Tips: Make this recipe for tacos! Simply place inside hard taco shells instead of hotdogs. Cooked shredded chicken can be substituted for pork.
-----------------------
CRISPY JALAPEÑO CHEESEBURGER
Makes 4 burgers
Ingredients:
1 lb. lean ground beef
¼ c. FRENCH'S® Classic Worcestershire Sauce
½ tsp. garlic powder
4 cheddar cheese slices
4 cooked bacon slices
¼ c. FRENCH'S® Tomato Ketchup
1 c. FRENCH'S™ Crispy Jalapeños
Instructions:
Mix beef, Worcestershire and garlic; shape into 4 burgers. Grill over medium heat for 15 minutes or until cooked through, turning once. Place burgers on rolls. Top each with a slice of cheese, 1 tbsp. Ketchup, 1 piece of bacon, and ¼ cup Crispy Jalapeños.
-----------------------
SPICY MANGO SLAW
by George Duran
Ingredients:
1 tbsp. mayonnaise
2 tbsp. sour cream
1 tsp. chipotle hot sauce, like Tabasco
1 tsp. lime juice
1 pinch salt
1 c. finely chopped cabbage
3 large carrots
1 mango, ripened but hard
Instructions:
Peel and grate carrots. Peel and chop mango into matchsticks.
In a large bowl, mix mayonnaise, sour cream, hot sauce, lime juice and salt until smooth. Then combine it with the cabbage, carrots and mango.
-----------------------
'TAKE ME OUT TO THE BALLGAME' PEANUT MILKSHAKE
Ingredients:
2 c. peanut butter ice cream

1 c. milk

2 tsp. imitation butter flavoring

caramel sauce
Instructions:
Blend the ice cream, milk and butter flavoring in a blender until smooth. Swirl caramel inside the rim of the glass, then pour in the milkshake. Serve chilled.
-----------------------
PRETZEL BITES WITH GARLIC AND HERB OIL
Ingredients:
1 tube or container pre-made pizza dough
10 slices of bacon, sliced in fours
2 qts. water
⅓ c. baking soda
¼ c. shredded parmesan cheese
Instructions:
Preheat oven to 425°F.
Roll out pizza dough on top of a cutting board.  Cut dough into 2"x2" squares, sprinkle and roll up into balls.  Boil water in a deep pot or pan, add baking soda, stir.
Add dough balls and cook for 2 minutes, or until they puff up.
Remove dough balls with a slotted spoon, and place briefly on a paper towel to soak up water before transferring to a cookie sheet covered in parchment paper.
Brush a good amount of garlic-herb oil on top of each dough ball then return to cookie sheet.  Sprinkle the whole cookie sheet with parmesan cheese.
Bake for 15 minutes or until golden brown.
Allow to cool & serve with garlic herb oil.
GARLIC HERB OIL
Ingredients:
1 garlic clove
2 tbsp. fresh herbs, minced
¼ c. extra virgin olive oil
Sea salt
Ground black pepper
Instructions:
Grate garlic clove into a small bowl.  Add olive oil to bowl and herbs.  Season with salt and paper to taste.  Serve with pretzel bites.
-----------------------
HOMEMADE CRACKER JACKS
Ingredients:
16 c. popped popcorn
2 c. roasted peanuts, lightly salted
½ c. unsalted butter
¾ c. brown sugar
½ c. light corn syrup
2 tbsp. molasses
½ tsp. salt
1 tsp. vanilla
½ tsp. baking soda
Instructions:
Preheat oven to 250°F.  Grease two baking sheets and set aside.
Combine popcorn and peanuts in a large bowl. Toss well.  Set aside.
In a heavy saucepan, melt butter over medium heat.  Stir brown sugar, syrup, molasses and salt.  Increase heat to medium-high while continuing to stir for approximately 6-8 minutes or until mixture starts to boil.  Remove from heat and stir in vanilla and baking soda.  Mix well and quickly pour mixture over popcorn while tossing to evenly coat.
Transfer popcorn evenly between the two baking sheets.  Transfer to oven and bake for 45-50 minutes, stirring every 10-15 minutes.  Remove from oven and allow to cool.  Once cooled, separate popcorn into pieces and serve.
-----------------------
SPICY CORN DOGS
Ingredients:
1½ c. yellow cornmeal
1¼ c. all-purpose flour
¼ c. sugar
1 tbsp. baking powder
¼ tsp. salt
1 egg, beaten
1½ c. milk
1 tbsp. vegetable oil
1 tbsp. honey
1 tbsp. pepper sauce
10 hot dogs
10 wooden skewers or chopsticks
Vegetable oil, for frying
Instructions:
In a medium or large pot, add the oil. Turn heat to medium and heat oil to 350°F.
In a large bowl, add the cornmeal, flour, sugar, baking powder and salt. Stir together. Then add the beaten egg, buttermilk, oil pepper sauce and honey. Stir until combined. Batter should be a little thicker than pancake batter.
Remove hot dogs from package. Wipe them all dry with a paper towel. This will help the batter stick to them better. Insert one skewer or wooden stick into each hot dog.
Pour the batter into a tall drinking glass. Holding by the skewer, take one hot dog and dunk it into the batter, coating all of the hot dog. Slowly remove from batter and let a little excess batter drip back into the cup. Immediately place it into the hot oil, while still holding the stick. Turn as necessary to brown all sides. Cook for 2-3 minutes, or until all sides are a deep golden brown.
Remove from hot oil and place on paper towels to drain grease. Repeat with all hot dogs.
-----------------------
PULLED PORK NACHOS
Ingredients:
1 bone-in pork butt
Diced tomatoes
¼ c. barbecue seasoning blend
Corn tortilla chips
Barbecue sauce
Shredded cheese
Ripe olive slices
Fresh jalapeño slices
Instructions:
Season pork butt with your favorite barbecue seasoning blend; place in 5 to 6-quart slow cooker.  Cover and cook on low 10 to 12 hours or cook on high 5 to 6 hours.
Remove pork from slow cooker with tongs and place in large container.  Use tongs, 2 forks or fingers to shred pork.
For each serving of nachos, arrange tortilla chips in pie pan.  Top with pulled pork, barbecue sauce, cheese, olives, jalapeño slices and tomatoes.  Place under broiler until cheese is melted.
Cover and refrigerate or freeze remaining pulled pork for a later use.
-----------------------
CRACKER JACK OLD FASHIONED
Ingredients:
2 oz. bourbon
0.5 oz. Cracker Jack syrup (recipe below)
3 dashes orange bitters
Instructions:
Combine ingredients in a large rocks glass. Add a large ice cube. Stir until chilled, Garnish with an orange twist wrapped Cracker Jack (toy on side optional)
CRACKER JACK SYRUP
Ingredients:
2 c. demerara sugar
1 c. water
½ c. unsalted peanuts
½ tbsp.. salt
1 tbsp. molasses
½ c. Cracker Jacks
Instructions:
Combine all ingredients, except water, in medium saucepan over medium heat. Constantly stir until sugar has fully caramelized. Be careful not to let it burn.
Slowly add water and continue to stir until fully incorporated. Strain through a cheese cloth and let cool.
-----------------------
SHANDY
Ingredients:
8 oz. beer (lager, pilsner or wheat beer recommended)
8 oz. lemonade
Instructions:
Roll to combine. Serve in a tall glass. Garnish with your favorite citrus: orange, grapefruit or lemon.
-----------------------
ROOT BEER FLOAT
Ingredients:
1-2 scoops vanilla ice cream
16 oz. root beer
Instructions:
Fill a Collins glass ¾ the way full with root beer. Add ice cream to glass and let sit for a few minutes. Stir until ice cream melts a bit, then top with root beer.