How Oscar Isaac got his uncle, a hard-core fan, an extra role in upcoming 'Star Wars'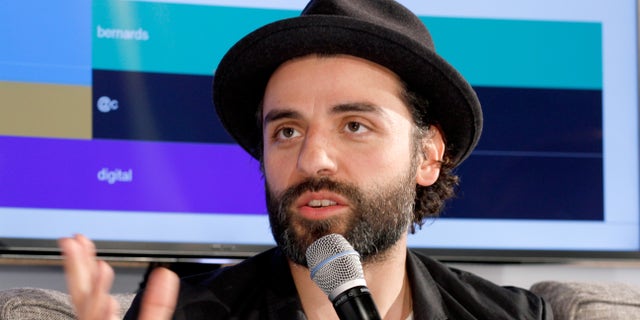 NEWYou can now listen to Fox News articles!
If there was ever a "Best Nephew" award, Oscar Isaac would probably get it.
The 35-year-old Guatemalan actor stars in J.J. Abrams' upcoming film called "Star Wars: The Force Awakens" as X-wing fighter Poe Dameron — a dream come true for this self-proclaimed fan of the saga.
But if it was a dream for Isaac to be cast, it was even bigger for his uncle, who is a hard-core fan and even made T-shirts that said "Estar Guars: Episode VII." Isaac got him an extra role in the highly anticipate film.
"I gave (the shirts) to everybody [on the set] and told J.J. Abrams, who was like, 'Does he wanna be in the movie?'" Isaac told Details magazine in an interview posted Wednesday. "He's an extra in a scene with me. How amazing is that?"
Best nephew for life.
Isaac also opened up to the magazine about his evolution as an actor, growing up in Miami, getting kicked out of school and surviving 1992's Hurricane Andrew.
"It was seventh grade, and I had just not been invited not to come back to my private school," the actor recalled. "I'd petted some animals I wasn't supposed to pet. The school was built around this guy's ranch, and there was a big wall, and we never knew what was on the other side. Me and my friend jumped over and found all these exotic animals – guard emus and the craziest tiny little beavers. We started petting them all. Why wouldn't you? But the guy complained."
He also sprayed a fire extinguisher in the gym and defaced a mural with curse words. His parents wanted to send him to a "Footloose"-like school to straighten him out. But Mother Nature had other plans.
"I just thought, 'Oh no, this is the end.' Sure enough, Hurricane Andrew came and blew that school down, so I didn't have to go," he said.
The Category 5 hurricane ripped through South Florida in 1992, destroying or damaging more than 100,000 homes, including Isaac's house.
"We were huddled inside with cushions over us," Isaac recalled. "The roof was torn off and the water was coming up. I was holding my dog. My room got completely swept away. And then, in the morning, my dad came and knocked through a wall and grabbed us and took us to the hospital where he was working."
Eventually, Isaac switched to a public school in Palm Beach, which led him to the prestigious Julliard School in New York — with Oscar nominee and "A Most Violent Year" co-star Jessica Chastain.
He got his first major role in "The Nativity Story" in 2006 and has not looked back since.
"[I] didn't work for about a year after that. And then I thought, If they just give me another chance. … You start realizing it's not about chances — it's about longevity, it's about getting better," he said.
"For about 10 years now, I feel like it's just been a nice, steady progression into more and more interesting parts and larger bits of screen time. And the truth is, there hasn't been a ton of calculation. I've just been doing the best thing that has come my way. It isn't until lately where I'm having to say, 'OK, this is good, but this is good too, and which one should I do?'"
Like us on Facebook
Follow us on Twitter & Instagram