How Anjelah Johnson-Reyes went from 'Bon Qui Qui' to starring in faith-based films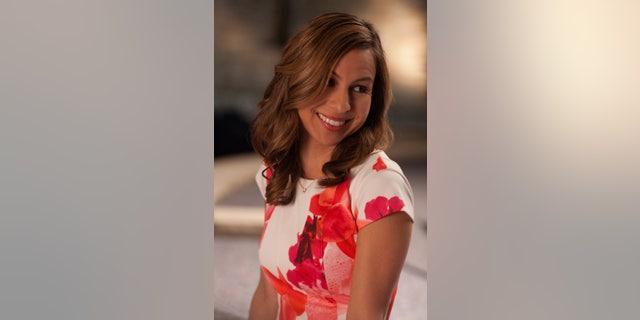 NEWYou can now listen to Fox News articles!
Anjelah Johnson-Reyes first shot to fame in the viral MADTv skit "Bon Qui Qui." The former NFL cheerleader continued to make a name for herself in the world of comedy with both her stand-up and TV and movie roles.
Now the 34-year-old is starring in the faith-based film "The Resurrection of Gavin Stone" in theaters January 20. While faith has been an important factor in Johnson-Reyes' life since she was a teenager, it's always something she's kept in her personal life until now.
"I do a joke in my stand-up where I say I'm a Christian, but I'm not a Christian comedian," Johnson-Reyes told us. "I think that's definitely how I see my acting. I'm an actor who happens to be a Christian."
The California-native said she has been reluctant to take roles in Christian films because she doesn't "want to be known as a Christian actor." But in 2014, she agreed to a small role in "Moms' Night Out" because it was "funny and not a typical Christian film."
So when she was approached about "The Resurrection of Gavin Stone," Johnson-Reyes was hesitant to take the role so as not to be branded as a Christian entertainer.
"Before I read the script [for 'Gavin Stone'], a producer reached out to me and asked if I was interested, and I said no because I didn't want to be known as a Christian actor. And then I read the script, and I really enjoyed it. I enjoyed how authentic it felt and thought I can get on board with this."
That's not to say the star's faith hasn't played a role in her career before she delved into the world of faith-based entertainment. Johnson-Reyes said she had turned down many opportunities because they conflicted with her beliefs.
"There's been roles that I have turned down," she revealed. "There's no rule book or handbook... It's just... whatever I'm comfortable with.
Since the "Bon Qui Qui" creator has decided to be open about her faith with her fans, she has encountered some negativity -- especially from her Christian fans.
"I live my life not to please my pastor or my church or fellow Christians," she told us. "I live my life according to my own convictions and morals and core values and principals and a lot of times that's not going to add up to other Christians."
Faith & Fame is a regular column exploring how a strong belief system helps some performers navigate the pitfalls of the entertainment industry.
Follow Sasha Savitsky on Twitter @SashaFB.