'House of Cards' crew members claim Kevin Spacey routinely sexually harassed people on set
The allegations against "House of Cards" star Kevin Spacey continue to mount as eight crew members reportedly have come forward to detail allegations of sexual harassment and groping on the set of the popular Netflix drama.
On Thursday, CNN reported that eight people close to the production of the series, which shoots just outside of Baltimore, Maryland, have come forward with allegations of sexual misconduct from the 58-year-old star that made working on the set an alleged nightmare.
All eight accusers have chosen to remain anonymous, but claim that the behavior was very well known on set and that it created a difficult work environment. Netflix and Media Rights Capital, the companies behind "House of Cards," claim they had no reports of any widespread misconduct.
"When the allegations broke about Kevin Spacey on Sunday night, in conjunction with MRC, we sent a representative to set on Monday morning," Netflix told Fox News in a statement.
"Netflix was just made aware of one incident, five years ago, that we were informed was resolved swiftly," it continued. "On Tuesday, in collaboration with MRC, we suspended production, knowing that Kevin Spacey wasn't scheduled to work until Wednesday. Netflix is not aware of any other incidents involving Kevin Spacey on-set," the company said.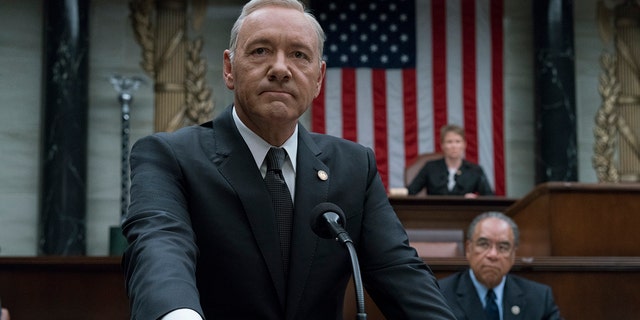 "We continue to collaborate with MRC and other production partners to maintain a safe and respectful working environment. We will continue to work with MRC during this hiatus time to evaluate our path forward as it relates to the production, and have nothing further to share at this time."
The report cites a production assistant who details that he had to drive Spacey to set one day and the two-time Academy Award-winning actor reached into his pants in a nonconsensual manner. He said he didn't disclose the details of what happened next for fear of being identified, but said that when they got to the set, he was asked to help bring things to the actor's trailer.
The production assistant then alleges that Spacey cornered him, blocked his ability to exit and made "inappropriate contact" with him.
The incident allegedly happened months after the same production assistant had complained that Spacey was harassing him. His supervisor's solution was to make sure they never were alone. The harassment stopped, making him feel comfortable enough to drive Spacey on the day in question.
Other members of the production crew told the outlet that they witnessed Spacey be inappropriate with many younger male members of the staff. It was typically done out in the open, in full view of others.
They allege that most on set were aware of Spacey's behavior, and that it was well-known among the crew. However, Netflix and MRC maintain they were not made aware of any serial behavior on the part of Spacey.
"We are deeply troubled to learn about these new allegations that are being made to the press concerning Kevin Spacey's interaction with members of the crew of 'House of Cards,'" MRC said in a statement provided to Fox News.
"As the producer of the show, creating and maintaining a safe working environment for our cast and crew has always been our top priority. We have consistently reinforced the importance of employees reporting any incident without fear of retaliation and we have investigated and taken appropriate actions following any complaints," MRC said.
"For example, during our first year of production in 2012, someone on the crew shared a complaint about a specific remark and gesture made by Kevin Spacey. Immediate action was taken following our review of the situation and we are confident the issue was resolved promptly to the satisfaction of all involved," the statement reads.
"Mr. Spacey willingly participated in a training process and since that time MRC has not been made aware of any other complaints involving Mr. Spacey."
MRC also noted that, in the wake of the new allegations it has set up an anonymous hotline where crisis counselors and sexual harassment advisors will help any crew members that come forward with complaints about anyone on the set.
The allegations come days after actor Anthony Rapp revealed to Buzzfeed News that Spacey had made a sexual advance on him when he was 14, and Spacey was 26. Since then, several other men have come forward with similar stories about the star, prompting Netflix to suspend production on season six of "House of Cards." Meanwhile, Spacey has announced that he will seek an undisclosed treatment during the hiatus.
Additionally, Deadline reports that the talent agency that's repped Spacey for eight years, CAA, has dropped him. His publicist, Staci Wolfe at Polaris, has also parted ways with the actor.