Hollywood's rush to 'the rapture'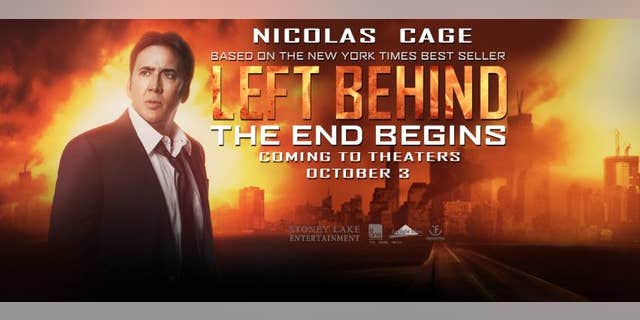 LOS ANGELES – The rapture is hot in Hollywood.
The highly-anticipated Nicolas Cage movie "Left Behind" – based on the best selling books – hits theaters Friday. The film follows the plight of a commercial pilot who is 30,000 feet over the Atlantic in the hours after the rapture, the theological event in which Christians are brought to God before the Earth's ultimate destruction.
The film comes right after the season finale of HBO's hit "The Leftovers," which took a dark look at the world three years after the rapture, and the film "The Remaining," a supernatural thriller centered on a group of friends who come together to celebrate a friend's wedding when, you guessed it, the rapture happens.
So what's with this year's rush to rapture?
"The question isn't why Hollywood is fascinated by the rapture, but why wouldn't they be?" Rob Thompson, a professor of popular culture at Syracuse University told FOX411. "The subject is amenable to special effects, highly dramatic in simple, end-of-the-world fashion; and there are lots of pre-existing stories to adapt."
And Casey La Scala, who wrote and directed "The Remaining," says you don't have to be religious to be interested in the subject matter.
"The themes are universal," La Scala said. "I wanted to create conversation about where you in life and loving the one you are with, being in the moment and having faith in something."
But Paul Lalonde, producer of "Left Behind" and CEO of Stoney Lake Entertainment, said it was so important to remain true to religious teachings on the rapture that he raised his film's funding independently so he would retain creative control. And Cage told Variety he hoped viewers would not only be entertained, but go on to discuss if and why such an event could or could not happen in real life.
"Hollywood has taken note of the size and spending power of faith-driven consumers and increasingly paid attention to their wants," noted Chris Stone, founder of Christian resource center, Faith Driven Consumer. "This means a level of respect for the faith-based market that corresponds to improvements in production quality and a more accurate reflection of biblical narratives."
However, Margaret Cone – a Washington D.C-based attorney who works with a number of Christian organizations – isn't convinced that the entertainment industry is looking to do anything beyond boost its own bottom line.
"I don't view the release of these movies as an indication that the film business is seeking to answer theological questions," she added. "Hollywood is a business. If they can make money on a certain story, of course they will make the movie."
Follow @holliesmckay www.twitter.com/holliesmckay on twitter