Hollywood vs. The Volcano: Ash Disrupts Celebs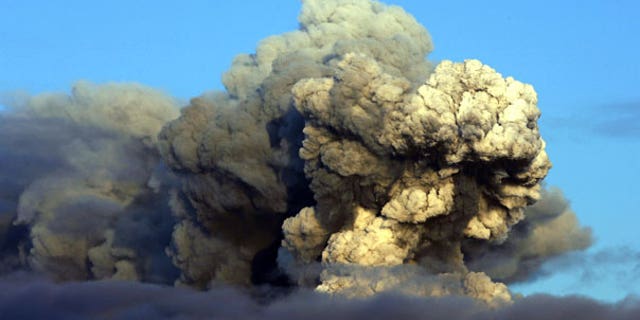 LOS ANGELES -- A volcanic cloud of ash hovering over Europe is causing quite a scene in Hollywood and beyond.
The ash spat out by an Icelandic volcano that has left thousands of air travelers stranded is also affecting celebrities, filmmakers, musicians and even pro-wrestlers.
With almost two-thirds of Europe's flights grounded, cancelations and postponements were popping up across the entertainment landscape on Saturday as Icelandic scientists warned that volcanic activity had increased and showed no sign of abating.
Organizers of the Coachella Valley Music and Arts Festival in Indio, Calif., tweeted that some acts were forced to pull out of the weekend event, including British rockers The Cribs and Bad Lieutenant, Scottish rockers Frightened Rabbit, and British dance trio Delphic. It also appears unlikely that British synth singer Gary Numan will make it to Coachella for his Sunday slot.
"The last thing I expected this morning when I woke up was to hear that volcanic ash might be preventing us from flying to America," Numan posted on his Web site Friday.
Bad Lieutenant announced Saturday it was also canceling concert dates through Wednesday in San Francisco, Chicago and New York because of flight disruptions.
"We're stuck in Manchester," said band member Bernard Sumner in a statement. "We were hoping that conditions might change at the last minute and we'd be able to come and play for our fans. Obviously, this is a situation out of everyone's control, and we are crushed that we won't be coming to America for these dates."
Whitney Houston was forced to ditch a plane for a ferry across the Irish Sea to perform in Dublin. The R&B diva, currently in the middle of her "Nothing But Love" world tour, opted for the not-so-glamourous boat ride after no-fly orders shut down airports across Europe. Houston is scheduled to perform the first of three shows Saturday at the O2 arena in London.
The ash cloud also grounded several other musicians in Europe. Welsh indie pop band Los Campesinos! canceled their Friday appearance at the Culture Shock Festival in Purchase, N.Y., as well as their Saturday concert in Hoboken, N.J. Pop singer Mika postponed his Friday concert in Lisbon, Portugal, after unexpectedly finding himself stranded in Paris.
"Volcano freak out," he tweeted. "This is bad."
Scientists were indicating that travel chaos could extend into the new week, increasing the threat to New York's Tribeca Film Festival, which begins Wednesday. Festival organizers said that some early arrivals -- those scheduled to fly in Monday to help promote their films -- had already been grounded. Tribeca is to feature films from nearly 40 countries, with many filmmakers from Europe expected to attend.
The cloud situation was also causing havoc for World Wrestling Entertainment, the professional wrestling organization nearing the end of a two-week European tour. Several wrestlers and crew members traveled for nearly 17 hours in buses and ferries to make it from Lieven, France, to Belfast, Ireland. The trip normally takes about an hour and a half in a plane.
WWE spokesman Kevin Hennessy said it was unclear if everyone would arrive in time for Monday night's scheduled "WWE Raw" event at the Izod Center in East Rutherford, N.J. He said the WWE wrestlers and crew normally "fly commercial, but we are booking a charter just to be safe." Hennessy added that "Sunday is normally a simple travel day -- very easy."
Worldwide press junkets for two of the summer season's most anticipated films -- "Iron Man 2," starring Robert Downey Jr., and "Robin Hood," starring Russell Crowe -- also were still scheduled as planned next weekend in London, according to studio officials.
Some U.S. book publishing executives were forced to cancel plans to attend next week's London Book Fair because of the disrupted air travel. But organizers said Friday the three-day gathering will proceed as scheduled.
Back in Hollywood, Saturday's blue-carpet world premiere of Disneynature's "Oceans," at the El Capitan Theatre was already prepared to hit bumpy waters. The film's French director, Jacques Cluzaud, and producers won't be attending the debut of their Disney documentary narrated by Pierce Brosnan and starring underwater critters. They're stuck overseas.