Hilary Duff flaunts figure on Hawaiian beach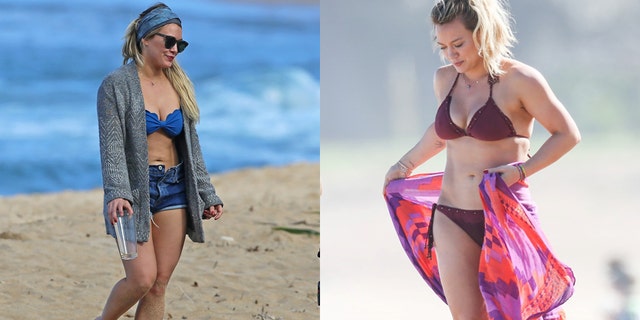 The Duffs hit Hawaii! Hilary and Haylie Duff rang in the New Year with their families on a picturesque Hawaiian getaway. The close-knit celebrity sisters have been spotted over the past few days enjoying the surf and sun with their kids.
WATCH: Hilary Duff Claps Back at Haters Who Called Her Kiss on the Lips with 4-Year-Old Son 'Inappropriate'
Haylie captioned one selfie with her sis, "Everything," and both ladies posed in front of the colorful Hanalei sign during their tropical vacation.
Hilary spent the first day of 2017 getting a personal surfing lesson, which she managed like a pro. The "Younger" star wore a wetsuit top and patterned bikini bottoms, showing off her moves in the surf.
Later that day she hit the beach with her 4-year-old son Luca, wearing a maroon two-piece and showing off her toned physique.
On Monday, Hilary hit the beach in a scalloped blue bikini top with jean shorts, a grey cardigan, and a matching blue headband. She enjoyed some drinks on the beach with Haylie and Co.
WATCH: Hilary Duff Reportedly Splits From Boyfriend Jason Walsh
Haylie also posted a selfie with her daughter Ryan, captioning the precious photo, "Bestie."
Hilary Duff is newly single after splitting from her personal trainer beau, Jason Walsh, in late 2016.