'High School Musical 3' Wins Big at Kids Choice Awards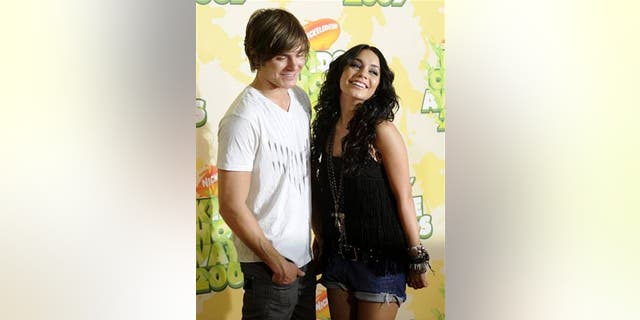 LOS ANGELES – "High School Musical 3: Senior Year" graduated with honors Saturday at the Kids Choice Awards.
The Disney musical was selected as the favorite movie by audience votes at the 22nd annual slime-filled Nickelodeon spectacle held inside UCLA's Pauley Pavilion. "High School Musical" star Vanessa Hudgens was also selected as the favorite movie actress.
"Lately, a lot of people have been taking credit for bringing back the musical," Zac Efron said while accepting the movie's trophy. "The truth is we've known who's been responsible for bringing back the musical all along. It was you guys!"
The show's hijinks kicked off with host and "Race to Witch Mountain" star Dwayne Johnson zip-lining over the audience of screaming teens and tweens into a "slime temple." Johnson proceeded to spray the first row with gooey green slime. Other shenanigans included squirting singer Jesse McCartney with a fake microphone and Will Ferrell slipping and sliding down a hill.
Winners included "iCarly" for TV show, "American Idol" for reality show, Jonas Brothers for music group and "Madagascar: Escape 2 Africa" for animated movie. Jack Black arrived in motorcycle sidecar to pick up his award for favorite voice from an animated film for "Kung Fu Panda."
Miley Cyrus was brought to tears when she was announced as favorite female singer.
"I really thought I was gonna lose, so thank you, guys," said Cyrus.
Johnson said over 90 million viewer votes were cast at Nick's Web site. Instead of envelopes, blimp recipients were revealed from inside spy-like steel briefcases. Some held surprises throughout the show. Before presenters Sandra Bullock and Hugh Jackman announced the "Twilight" series as favorite book, a briefcase doused the pair with green slime.
The green theme took on an entirely different meaning when Cameron Diaz presented her "Gangs of New York" co-star Leonardo DiCaprio with the first-ever Big Green Help Award. The "Titanic" and "Revolutionary Road" actor was selected to receive the green blimp trophy because of his contribution and promotion of environmental issues.
"Right now, our mother — our mother — all of our mothers, Mother Earth is hurting," said DiCaprio. "And she needs a generation of thoughtful, caring and active kids like all of you to protect her for the future. You can help us win the battle to clean up our air, our water, our land, to protect our forests, our oceans and our wildlife."
Most of the blimp recipients were relegated to brief announcements before and after the commercials.
Among those winners were "Wizards of Waverly Place" star Selena Gomez for TV actress, "The Suite Life of Zack and Cody" star Dylan Sprouse for TV actor, "SpongeBob SquarePants" for cartoon, Jesse McCartney for male singer, Beyonce's "Single Ladies" for song, Will Smith for movie actor, "Guitar Hero World Tour" for video game, Candace Parker for female athlete and Peyton Manning for male athlete.
Earlier this year, controversy found its way into the show when pop star Chris Brown withdrew his name from Kids' Choice contention. The nominations were announced shortly before his arrest for allegedly attacking girlfriend and fellow Kids' Choice nominee Rihanna. Neither was in attendance Saturday, and Rihanna, twice nominated, lost in both categories.
The show concluded with Johnson and a troop of Polynesian dancers summoning the "slime temple" to spew the sticky stuff all over the audience. Instead, the Jonas Brothers emerged and sang a cappella, causing slime to cascade over the boy band, Johnson, the dancers and much of the audience.
"What you guys don't know is that's real boogers," comedian Marlon Wayans said earlier in the show.