'He's Just Not That Into You' Cast: Then & Now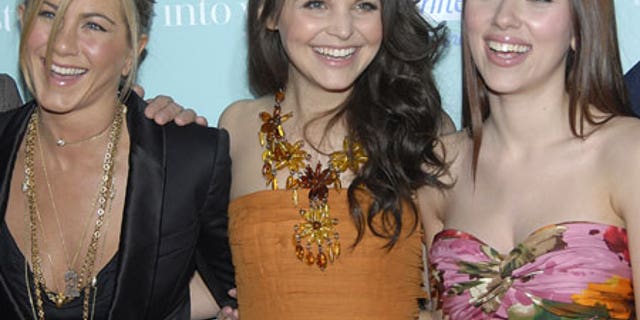 NEWYou can now listen to Fox News articles!
The long-awaited chick flick He's Just Not That Into You, based on the best-selling book, hits theaters this week, and the film's star-studded cast has been making the rounds on all the talk shows.
Not since St. Elmo's Fire have we seen such a who's who of good-looking A-listers gathered on one movie screen, complaining about their romantic problems. So we thought we'd take a look back at each of the stars' humble beginnings, and check in on how their love life is faring off-screen these days.
Photo Gallery: See the "He's Just Not That Into You" cast, then & now.
Drew Barrymore: Then
The world fell in love with young Drew Barrymore when she played Gertie in 1982's E.T.: The Extra-Terrestrial. Doe-eyed, pig-tailed, innocent little Drew was on her way to stardom — and rehab. Oops. But despite the obstacles, Drew managed to keep at it, and she came back for good in the 1995 film Boys on the Side.
Drew Barrymore: Now
Drew's production company, Flower Films, is releasing He's Just Not That Into You, starring none other than Drew Barrymore. Flower Films has been good for her career, and she's been able to develop hit movies for herself, including 50 First Dates and the Charlie's Angels remakes. Romantically, Drew claims she's thrilled to be single amid rumors that she has rekindled her real-life love affair with costar Justin Long.
Justin Long: Then
After what we consider one of the finest film performances of all time — Brandon, the computer geek who saves the day in Galaxy Quest — Justin went on to a string of nerdy roles, including Warren P. Cheswick on the TV series Ed.
Justin Long: Now
Justin continues to play nerds, including his role in 2007's Live Free or Die Hard and the Mac guy in those Mac vs. PC commercials. Clearly costar Drew Barrymore is really into the nerd vibe. She keeps coming back for more.
Ben Affleck: Then
Ben's first big movie was 1992's School Ties, playing Chesty Smith alongside buddies Matt Damon and Brendan Frasier. But it wasn't until his Academy Award-winning screenplay for (and supporting role in) Good Will Hunting — again a collaboration with pal Matt — that he became a household name and won the affection of a young starlet named Gwyneth Paltrow.
Ben Affleck: Now
Ben won critical acclaim and a Golden Globe nomination for playing actor George Reeves in 1996's Hollywoodland, marking a mini-comeback after a string of bad films and public humiliation with the whole "Bennifer" affair. He's Just Not That Into You is his first on-screen gig in a few years, after making his directorial debut with 2007's Gone Baby Gone.
Jennifer Aniston: Then
Before she was Rachel Green on Friends, Jennifer Aniston got her big break playing Ferris Bueller's vengeful sister, Jeannie, in the small-screen version of the beloved Matthew Broderick film. But the TV series didn't live up to the greatness of the movie and was cancelled after only one season.
Jennifer Aniston: Now
Jen's coming off the runaway hit Marley And Me and hoping for another box-office score with He Just Not That Into You. Off-screen, rumors abound that her on-again/off-again John Mayer romance is off AGAIN, but on the other hand, there's also talk that the couple is racing Brangelina to the altar. Only time and the tabloids will tell.
Jennifer Connelly: Then
Jennifer Connelly had been modeling and acting since the age of ten. But she didn't become a star until she shared the screen with rock legend David Bowie and a bunch of creepy, craggily muppets in Jim Henson's 1986 film Labyrinth.
Jennifer Connelly: Now
After years of mediocre movies and stints at Yale and Stanford studying English, Connelly had all but disappeared from Hollywood. It took another child star to put Jennifer back on the map — and on the road to a Best Supporting Actress Oscar — when Ron Howard cast her as Russell Crowe's wife in 2001's A Beautiful Mind. Jennifer also met a guy on the set of that film who happened to be very into her, costar Paul Bettany, who she married in 2003.
Scarlett Johansson: Then
Scarlett Johansson had been acting since she was a kid, making her film debut in North (1994) and appearing in Mandy Moore's Candy video. But when the cult classic Ghost World was released in 2001, people finally took notice of the young beauty's talent.
Scarlett Johansson: Now
After her BAFTA Award-winning turn in 2003's Lost in Translation, ScarJo has been on a roll. Although she adamantly denies being Woody Allen's muse, she's starred in three of his last four films: Match Point (2005), Scoop (2006), and Vicky Cristina Barcelona (2008). Up next, she's playing a "gladiatrix" in the movie Amazon (due out in 2010). Off-screen, lots of guys have been way into Scarlett, who was involved with Benicio Del Toro and Josh Hartnett before marrying Ryan Reynolds in September of last year.
Drop by GetBack.com for your daily dose of pop culture pleasure: music, movies, games, and more.