Helen Mirren thanks J.Lo and Kim K. for making large butts a positive thing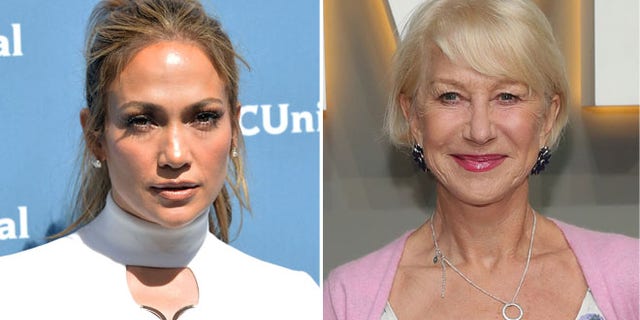 NEWYou can now listen to Fox News articles!
Dame Helen Mirren says women need to thank the likes of Jennifer Lopez and Kim Kardashian for making big butts acceptable to other women.
The Oscar winner, who early in her career was something of a sex symbol herself for roles such as Caesonia in the X-rated "Caligula" (1979), praised Lopez and Kardashian for their ample assets and for helping women embrace their curvaceous bodies.
"I'm not into the Kardashians. It's a phenomenon I just don't find interesting – but, and this is the big word, B-U-T-T – it's wonderful that you're allowed to have a butt nowadays," Mirren said in an interview with the Telegraph. "Thanks to Madame Kardashian, and before her, J.Lo. We're also allowed to have thighs now, which is great, too. It's very positive."
The 70-year-old actress said she is thrilled that a new generation of women has redefined beauty.
"When I was growing up, it was thought to be unbelievably sluttish to even have a bra strap showing. Everything was about women conforming. I love shameless women. Shameless and proud!" she said.
The British actress also recently joined former Republican presidential candidate Ted Cruz to push lawmakers to recover art stolen by the Nazis.
According to Newsweek, Mirren testified before federal lawmakers on Tuesday is support of a bill that would make it easier for Holocaust survivors and their families to seek to recover art stolen by the Nazis. Cruz is co-sponsoring the bill and led Tuesday's hearing.
"Seventy years later, we're still trying to cope with the consequences of the Holocaust," Cruz said during the hearing. "This bill will help ensure that claims for restitution of Nazi-looted art are adjudicated based on the actual facts and merits" and not "by technical or non-merits defenses that far too often work to the disadvantage of Holocaust victims and their families."
The Holocaust Expropriated Art Recovery Act would set a six-year statute of limitations on claims for Nazi-era stolen art.
Mirren played Maria Altmann – a real-life Holocaust survivor who sought to recover her family's Gustav Klimt painting, "Portrait of Adele Bloch-Bauer I," from the Austrian government – in the 2015 film "Woman in Gold."
"It's a terribly sad fact that more than 70 years later, victims of the Holocaust and their families are still contemplating whether to seek restitution for what was stolen from them," Mirren said during her testimony. "A lack of a legal assurance that at least they can have their say in court – this discourages them from taking action."
She added, "Restitution is so much more, much more than that, than reclaiming a material good … It gives Jewish people and other victims of the Nazi terror the opportunity to reclaim their history, their culture, their memories and, most importantly, their families."
Like us on Facebook
Follow us on Twitter & Instagram