Harvey Weinstein may take legal action after Uma Thurman's sexual assault claims, attorney says
NEWYou can now listen to Fox News articles!
Disgraced producer Harvey Weinstein is reportedly considering legal action against Uma Thurman following her New York Times interview in which she alleged the mogul assaulted her.
The "Pulp Fiction" star told The New York Times she was sexually assaulted by Weinstein.
A representative for Weinstein told the Times he "misread her signals" but denied threatening Thurman's career.
UMA THURMAN BREAKS SILENCE ON HARVEY WEINSTEIN, HER STRAINED RELATIONSHIP WITH QUENTIN TARANTINO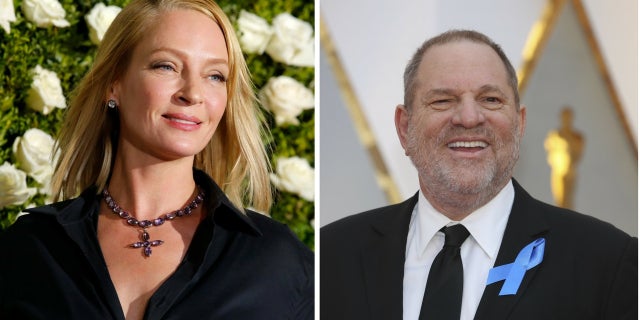 "Mr. Weinstein acknowledges making a pass at Ms. Thurman in England after misreading her signals in Paris," the statement read. "He immediately apologized."
Weinstein's attorney, Ben Brafman, told Deadline Thurman's recollection to The New York Times was being "carefully examined and investigated before deciding whether any legal action against her would be appropriate."
Thurman recalled a time in Paris when she and Weinstein got into an argument over a script in her Times article. She said Weinstein changed into a bathrobe and told her to follow him into a steam room.
UMA THURMAN RELEASES CRASH FOOTAGE FROM 'KILL BILL,;' SAYS WEINSTEIN AND OTHERS TRIED TO BURY IT
"I was standing there in my full black leather outfit – boots, pants, jacket," she said. "And I was so hot and I said, 'This is ridiculous, what are you doing?' And he was getting very flustered and mad and he jumped up and ran out.
During a meeting in London, not too long after the incident in Paris, Thurman said Weinstein attacked her in his hotel suite.
"It was such a bat to the head. He pushed me down. He tried to shove himself on me. He tried to expose himself. He did all kinds of unpleasant things. But he didn't actually put his back into it and force me," she recalled. "You're like an animal wriggling away, like a lizard. I was doing anything I could to get the train back on the track. My track. Not his track."
Thurman claimed Weinstein threatened to ruin her career if she told anyone about the incidents.
Weinstein is currently facing a slew of lawsuits following bombshell exposés that accused the producer of sexual misconduct spanning for decades.