Harvey Weinstein accused of raping 3 women, sexually harassing Gwyneth Paltrow, Angelina Jolie
Lurid allegations against Harvey Weinstein spread like wildfire on Tuesday as A-list actresses Angelina Jolie and Gwyneth Paltrow accused the studio head of harassment, and the New Yorker published an exposé with claims he raped three women and forced himself on four more.
Paltrow told the New York Times Weinstein invited her to his suite at the Peninsula Beverly Hills hotel after casting her in the lead role for "Emma" and suggested they go to the bedroom for massages.
"I was a kid, I was signed up, I was petrified," Paltrow told the Times. Then 22, she confided in her boyfriend Brad Pitt what had happened, and Pitt later confronted Weinstein.
According to Paltrow, Weinstein threatened her to keep her quiet.
"I thought he was going to fire me," she said of the producer who helped jump-start her career.
WEINSTEIN'S WIFE CONCERNED ABOUT HER FASHION EMPIRE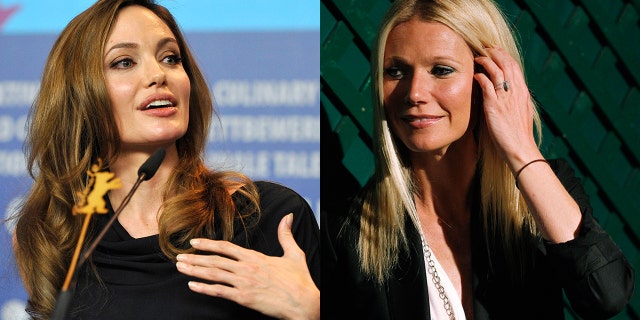 Jolie also told the paper she "had a bad experience with Harvey Weinstein in my youth."
"As a result, [I] chose never to work with him again and warn others when they did... This behavior towards women in any field, any country is unacceptable."
Several other women shared similar expieriences in a shocking exposé by Ronan Farrow for the New Yorker. Farrow detailed Weinstein's alleged decades-long history of threatening aspiring actresses and employees if they refused his sexual advances.
Three of the women who spoke with Farrow said Weinstein raped them, one of which later refused to speak on the record. Four more women said they experienced unwanted touching and four others said Weinstein masturbated in front of them or exposed himself.
Current and former Weinstein Company employees admitted to the New Yorker many at the company knew of Weinstein's behavior towards women and said some employees acted as "honeypot[s]" to attract women to meetings with Weinstein only to leave the women alone with the producer.
One of the more serious allegations comes from Italian actress and director Asia Argento who alleged that Weinstein forcibly performed oral sex on her.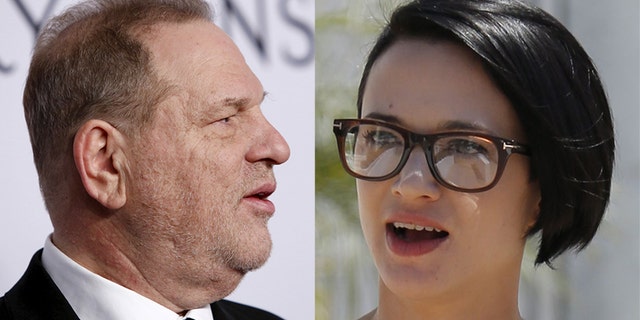 She said she did not come forward earlier out of fear Weinstein would "crush" her.
ASIA ARGENTO'S BOYFRIEND ANTHONY BOURDAIN SPEAKS OUT AFTER NEW YORKER STORY
"I know he has crushed a lot of people before," Argento told the New Yorker. "That's why this story—in my case, it's twenty years old, some of them are older—has never come out."
Argento said she later had a consensual sexual relationship with Weinstein because she felt "obliged."
"He forced me to perform oral sex on him...I said, over and over, 'I don't want to do this, stop, don't.'"
"I felt I had to," she said. "Because I had the movie coming out and I didn't want to anger him."
Another woman, Lucia Evans, alleged Weinstein forced her to perform oral sex on him in 2004. Evans was an aspiring actress at the time and had heard rumors about Weinstein's behavior but agreed to meet him at Miramax's New York office after she was told a female casting agent would be present.
However, she said she was left alone with Weinstein despite the building "being full of people."
"He forced me to perform oral sex on him...I said, over and over, 'I don't want to do this, stop, don't.'"
She added, "He's a big guy. He overpowered me."
GEORGE CLOONEY: I HEARD WEINSTEIN RUMORS FOR YEARS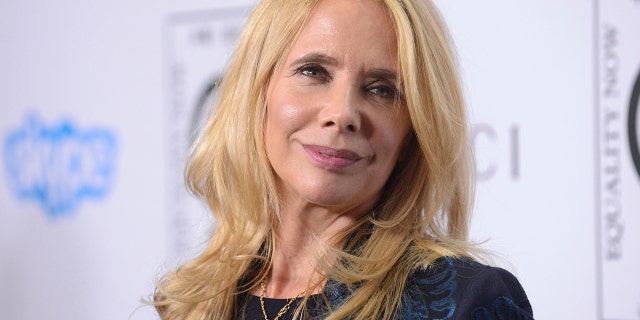 Actress Rosanna Arquette revealed she met Weinstein at a hotel in Beverly Hills to pick up a movie script. When she arrived Weinstein's room, she said he was wearing a white bathrobe and soon asked her to give him a massage.
She said she offered to recommend a good masseuse for him, but she claims he then grabbed her hand and placed it on his erect penis.
Arquette said rejecting Weinstein's advances hurt her career.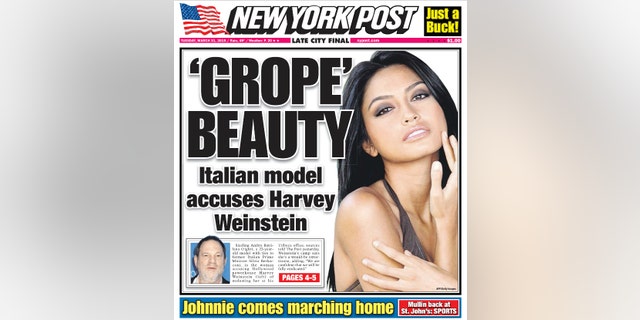 "He made things very difficult for me for years," she said. "He's going to be working very hard to track people down and silence people...To hurt people. That's what he does."
Italian model Ambra Battilana Gutierrez didn't talk to the New Yorker, but the magazine recounted her 2015 accusations of sexual assault that led to a controlled phone call with Weinstein set up by the NYPD.
Battilana's attorney David Godosky told Fox News then that it was "pretty clear" his client had been assaulted by Weinstein.
Weinstein's rep Sallie Hofmeister issued a statement to the New Yorker saying, "Any allegations of non-consensual sex are unequivocally denied by Mr. Weinstein. Mr. Weinstein has further confirmed that there were never any acts of retaliation against any women for refusing his advances. Mr. Weinstein obviously can't speak to anonymous allegations, but with respect to any women who have made allegations on the record, Mr. Weinstein believes that all of these relationships were consensual. Mr. Weinstein has begun counseling, has listened to the community and is pursuing a better path. Mr. Weinstein is hoping that, if he makes enough progress, he will be given a second chance."
Meanwhile, a statement from the Weinstein Company, issued after his firing, reitorates that the board of representitives had no clue about his misconduct.
"The Weinstein Company's Board of Representatives - Bob Weinstein, Lance Maerov, Richard Koenigsberg and Tarak Ben Ammar -  are shocked and dismayed by the recently emerged allegations of extreme sexual misconduct and sexual assault by Harvey Weinstein. These alleged actions are antithetical to human decency. These allegations come as an utter surprise to the Board. Any suggestion that the Board had knowledge of this conduct is false."