Halsey shares 'A Star is Born' cameo details, calls role an 'all time life highlight'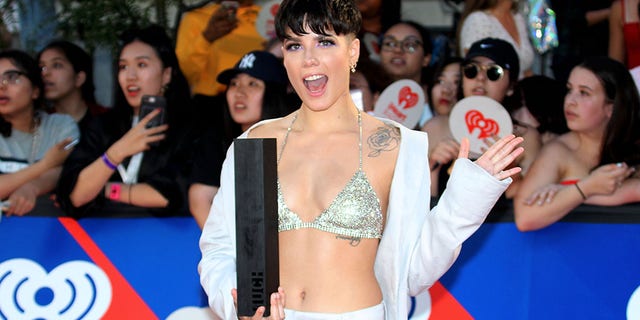 Pop singer Halsey is coming to a movie theater near you.
"I guess now is a good time to finally tell you guys that I have a little cameo in A Star Is Born," the 23-year-old said in a Wednesday tweet. "Thank you so so much to Gaga and Bradley for including me."
Bradley Cooper and Lady Gaga are starring in the latest remake of "A Star is Born," which is due out next month. Cooper also directed the movie.
Halsey added, "It was an honor to watch both of your talent and dedication on set. an all time life highlight for me for sure."
LANA DEL REY CANCELS ISRAEL PERFORMANCE AMID PRESSURE FROM BDS MOVEMENT
The "Bad at Love" singer shared other details about the part, too.
"I play myself for a very small moment!" Halsey told an inquiring Twitter user, calling it "insane because it means Gaga and Bradley saw me worthy of representing a piece of the current state of music in this film forever."
"They could have picked any artist," she added. "It was so humbling and unreal."
The pop star was reported to have a minor part in the project by Deadline earlier this year.
CHILDISH GAMBINO SKEWERS KANYE WEST, NICKI MINAJ, TRAVIS SCOTT AND MORE IN NEW MUSIC VIDEO
Cooper, who also co-wrote the film, stars as country singer-songwriter Jackson Maine. He's struggling with alcoholism until he meets Lady Gaga's character, Ally. They fall in love but face an uncertain future.
There have been several versions of the movie, including the 1937 original film that featured Janet Gaynor and Frederic March.
Judy Garland and James Mason starred in the 1954 version, and the 1976 rock musical featured Barbra Streisand and Kris Kristofferson.
The newest version will be released on Oct. 5.
The Associated Press contributed to this report.