Hailey Baldwin says Trump ripped family apart: We 'strongly disagreed'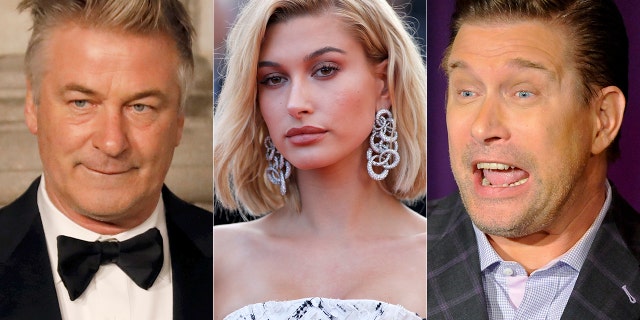 NEWYou can now listen to Fox News articles!
Hailey Baldwin revealed in a new interview that the 2016 election led to public Twitter fights and months of silence in the Baldwin household.
The 21-year-old Hillary Clinton supporter said it was especially difficult to watch her Trump-backing Republican father, Stephen, feud with his older brother, Alec, 60, who impersonates President Trump on "Saturday Night Live" — a portrayal that has received fierce criticism from the president in recent years.
"That was a very hurtful situation for me," Baldwin recently told The Sunday Times. "I love my father, he's an amazing dad, but we so strongly disagreed on [the election]."
In December 2017, Stephen, 52, admitted he hadn't spoken to Alec since Trump won the election, claiming it was "by his choice."
ROB SCHNEIDER SLAMS ALEC BALDWIN'S 'SNL' TRUMP PORTRAYAL: 'I DON'T FIND HIS IMPRESSION TO BE COMICAL'
"We grew up in a dumb-jock, competitive, 'Friday Night Lights' kind of environment. And I'm sorry ... but my guy won. Sorry. That's what happened," Stephen told The Hollywood Reporter at the time.
Stephen predicts Alec will switch sides in the 2020 election when he makes money off of Trump's new tax breaks.
"I love my father, he's an amazing dad, but we so strongly disagreed on [the election]."
"What I'm saying is that 'The Boss Baby' sequel money is going to go a long way because of Trump," he quipped.
In October 2016, Stephen accused CNN's Anderson Cooper of being biased in his coverage of the Trump campaign.
HAILEY BALDWIN NOT AFRAID TO TALK ABOUT HER FAITH
"If my father were alive today (a veteran) He would be ashamed & disgusted of media biased & manipulation by people like @andersoncooper," Stephen tweeted.
Stephen's brother, Billy, 55, fired back at the accusation.
"If our father were alive today… he'd smack you in the side of the head for supporting Donald Trump," Billy tweeted in reply.
Hailey Baldwin said Stephen's brothers weren't the only ones to disagree with his political viewpoints.
"He and my sister [Alaia] strongly disagreed on it," she told the British newspaper. "My sister's husband, like everyone on our side, just doesn't agree with him."
Somehow, Baldwin said the family has learned to move forward — sort of.
"We don't talk about it now. It's not worth the argument," Baldwin added.
Baldwin said she's instead focusing her attention on young people, encouraging them to stand up and be vocal about issues they care about.
"I've been trying to find ways to get more involved with people my age and make changes for things that matter," she said.