'Guardians of the Galaxy' tops box office with $94M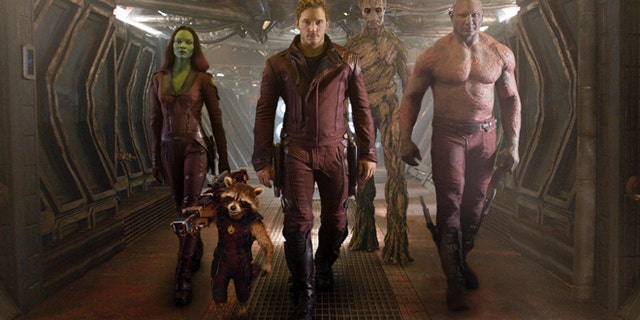 LOS ANGELES – "Guardians of the Galaxy" blasted past expectations at the weekend box office.
Marvel Studios' cosmic romp starring Chris Pratt and Zoe Saldana as members of an intergalactic band of rebels earned $94 million in its debut weekend, according to studio estimates Sunday. Ahead of its Friday debut, box office analysts initially projected that the comic book adaptation would earn between $60 million and $75 million in North America.
The launch gives "Guardians" the biggest opening for an August film, a record previously held by the $69.2 million debut of 2007's "The Bourne Ultimatum." It also makes "Guardians" the third largest opening of 2014, coming behind the $95 million inauguration of "Captain America: The Winter Soldier" and the $100 million launch of "Transformers: Age of Extinction."
"Guardians" also features Bradley Cooper and Vin Diesel voicing the computer-generated characters Rocket Raccoon and Groot.
The movie originally was considered a risky proposition for Marvel and "Guardians" distributor Walt Disney Co. because it features more obscure characters from the Marvel universe and is set almost entirely in outer space.
Despite any apprehension, Marvel was betting on "Guardians," written and directed by James Gunn, to be a blockbuster. The studio announced at Comic-Con in San Diego last month that a sequel already was set for release in 2017. Marvel's next films are the follow-up "The Avengers: Age of Ultron" and "Ant-Man" starring Paul Rudd. Both movies are coming in 2015.
Marvel comic book adaptations have dominated 2014 with Sony Pictures' "The Amazing Spider-Man 2," 20th Century Fox's "X-Men: Days of Future Past" and Marvel Studios' "Captain America: The Winter Soldier" each arriving in first place at the box office. Paul Dergarabedian, senior media analyst at Rentrak, believes Marvel is unstoppable at this point.
"This is a brand that transcends any character within their universe," Dergarabedian said. "The mere mention of the name Marvel is enough to get people into the movie theater. That's somewhat rare. Pixar obviously has a similar cachet, but for Marvel to have four films this year open with over $90 million is amazing. It's unprecedented success."
In a distant second place, "Lucy," starring Scarlett Johansson as a woman with mind-bending powers, nabbed $18.3 million in its second weekend, bringing the Universal Pictures release's domestic total to $80 million.
Meanwhile, Universal's James Brown biopic "Get on Up" featuring Chadwick Boseman as the soulful singer opened in third place with $14 million.
------
Estimated ticket sales for Friday through Sunday at U.S. and Canadian theaters, according to Rentrak. Where available, latest international numbers are also included. Final domestic figures will be released on Monday.
1. "Guardians of the Galaxy," $94 million.
2. "Lucy," $18.3 million.
3. "Get on Up," $14 million.
4. "Hercules," $10.7 million.
5. "Dawn of the Planet of the Apes," $8.7 million.
6. "Planes: Fire & Rescue," $6.4 million.
7. "The Purge: Anarchy," $5.5 million.
8. "Sex Tape," $3.5 million.
9. "And So It Goes," $3.3 million.
10. "A Most Wanted Man," $3.3 million.