Green Day sings 'No Trump, no KKK, no fascist USA' at AMAs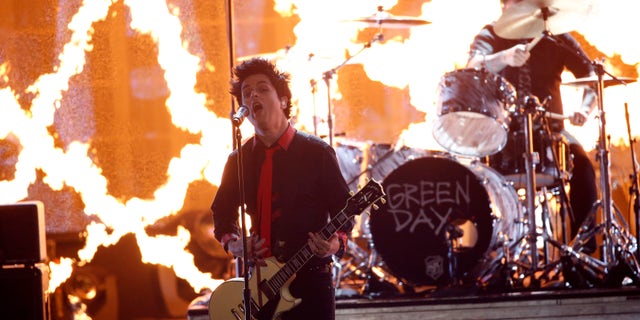 Green Day blasted Donald Trump during their performance of "Bang Bang" at the American Music Awards Sunday.
Lead singer Billie Joe Armstrong sang a new chorus in the middle of their hit song, "No KKK, no fascist USA, No Trump."
The band's chant is their second political statement of the month. The rock group changed the lyric of their song "American Idiot" at the MTV Europe Music Awards November 6 from "the subliminal mind-f--k America" to "the subliminal mind Trump America."
Armstrong also compared Trump to Hitler in an interview with Kerrang! magazine in August.
"The worst problem I see about Trump is who his followers are," the singer told the magazine. "I actually feel bad for them, because they're poor, working-class people who can't get a leg up. They're just pissed off and he's preyed on their anger."
He added, "He just said, 'You have no options and I'm the only one, and I'm going to take care of it myself.' I mean, that's f--king Hitler, man!"
Green Day's performance wasn't the only time Trump was mocked during the awards show. The show's co-hosts took aim at both Donald and Melania Trump which was met with anger by many fans.
The Associated Press contributed to this report.