Grand marshal Rita Moreno dances up a storm at NYC's Puerto Rican Day Parade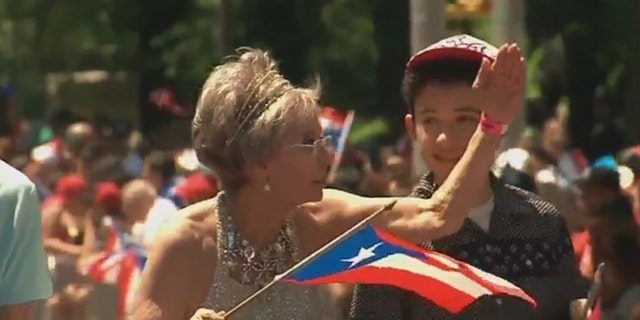 NEW YORK (AP) – Entertainer Rita Moreno took Roman Catholic Cardinal Timothy Dolan for a dancing spin Sunday in the middle of Fifth Avenue by St. Patrick's Cathedral in the middle of the Puerto Rican Day Parade in New York City.
"Hallelujah! Bienvenidos a todos," the cardinal yelled out to the crowd, meaning "welcome to all."
Perched in a convertible car, Moreno, 83, was the grand marshal of the festivities. Twenty thousand marchers and more than a million spectators turned out, draped in the colors of the Puerto Rican flag – red, white and blue. The parade stretched along Fifth Avenue from 44th to 79th Streets.
The 58th edition of the parade also featured Puerto Rico's governor, Alejandro García Padilla, and New York City Council Speaker Melissa Mark-Viverito, who was born in Bayamón, dancing to the Latino rhythms.
Dolan, archbishop of New York, offered blessings to the mostly Catholic participants. Dolan then lifted his straw hat to reveal a red skullcap he plopped onto the heads of several bemused boys.
Stephanie Placeres of Boston has been coming to New York for a dozen years to see the parade.
"We always stand here, at the same spot in the 50s; I have a parking lot that I always go to, and there's bathrooms right there in Trump Tower," said Placeres, flanked by her husband, mother-in-law and three young children.
"We're here because of the pride. It's overwhelming, amazing," she said, raising her voice above the noise that hit fever pitch, with hand-held horns and whistles from the sidelines. Placeres, 32, who heads a team of security officers on the Harvard University campus, said she's been noticing a tighter New York police presence at the festivities she said are more organized and disciplined since the violence and drunken mayhem that followed the event in 2000.
New York Mayor Bill de Blasio walked all 35 blocks, noting "the extraordinary contribution to this city by the Puerto Rican people. This is a community that over the last century has been one of the foundations of this city."
Lydia Rodriguez of Brooklyn stood out with a vibrant feathered headdress she said represents the Taino indigenous peoples who historically inhabited many Caribbean islands.
"People don't know much about them here," said Rodriguez, 40, proudly raising her adorned head to watch the Puerto Rican parade for her 23rd time.