Grammys 2018 take on Trump, DACA and gender equality as Bruno Mars takes home Album of the Year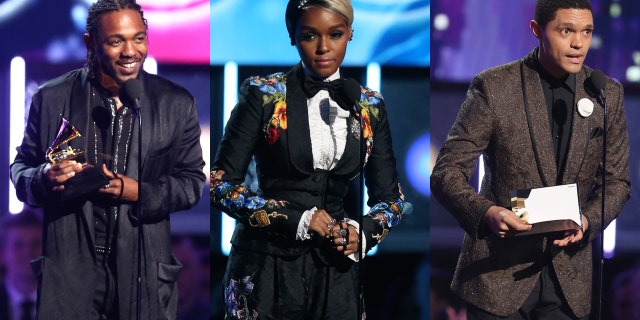 At the 60th annual Grammy Awards the stars took the opportunity to voice their opinions on everything from President Trump to DACA to gender equality.
Famous faces like Kendrick Lamar, Camilla Cabello, Bono, Trevor Noah and even Hillary Clinton turned up to talk politics, with host James Corden poking fun at Trump.
In the midst of all the political chatter, Bruno Mars came out a big winner for the night winnign both Album of the Year, Song of the Year and Record of the Year for his album "24K Magic."
Cabello had one of the more politically charged moments of the night when she took the stage to make a plea in favor of Dreamers, referencing the debate happening in Washington D.C. over the repeal of DACA.
2018 GRAMMYS RED CARPET FASHION
"I'm here on this stage tonight because, just like the Dreamers, my parents brought me to this country with nothing in their pockets but hope. They showed me what it means to work twice as hard and never give up. And, honestly, no part of my journey is any different from theirs. I'm a proud Cuban-Mexican immigrant, born in Eastern Havana, standing in front of you on the Grammys stage in New York City," she said to applause from the crowd. "And all I know is, just like dreams, these kids can't be forgotten and are worth fighting for."
The star then introduced U2, who appeared underneath the Statue of Liberty to perform their song "Get Out Of Your Own Way."
It was U2's second performance of the night after opening the show with Kendrick Lamar, who took the stage backed by a waving American flag flanked by a cadre of dancers dressed in military-like clothing. He performed his lightening-quick rap "XXX," which contains some political lyrics.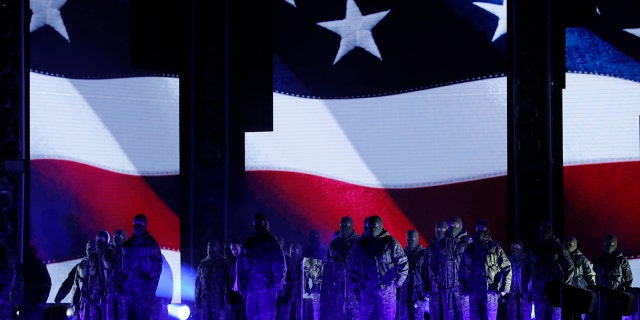 He was then joined by U2 for their collaboration "American Soul," which begins with the lyrics, "It's not a place/This country is to me a sound."
Their performances featured a planned interruption from comedian Dave Chappelle, who later won the award for Best Comedy Album for "The Age of Spin & Deep In The Heart of Texas."
"I just wanted to remind the audience that the only thing more frightening than watching a black man be honest in America is being an honest black man in America," Chappelle said before kicking things back to the stage.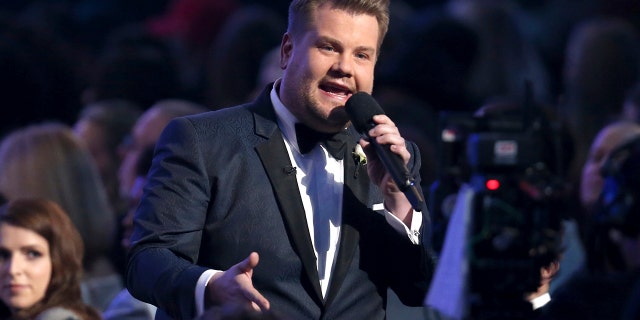 The Edge took the stage with Lamar as well. From there, more political imagery took center-stage when Lamar's chorus of backup dancers, now dressed in red, began falling to the floor as the sound of gunshots and flares rang out on stage.
Another hyper-political moment happened during a bit from Corden when he suggested that next year's award for Best Spoken Word Album could invovle President Trump.
From there, the show cut to a pre-taped segment in which John Legend, Cher, Snoop Dog, Cardi B and DJ Khaled reading excerpts from Michael Wolff's controversial book "Fire and Fury." The bit finished with a surprise appearance by Clinton, who showed up to read an excerpt to great applause from the live crowd.
HILLARY CLINTON TURNS UP THE GRAMMYS TO MOCK TRUMP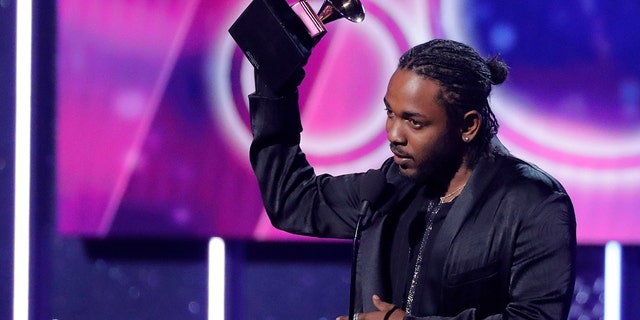 Comedian Sarah Silverman, who was also nominated for Best Comedy Album, took a swipe at the current climate while introducing Luis Fonsi and Daddy Yankee's "Despacito." She took the stage with Victor Cruz, joking that they were there to encourage everyone to vote.
"That's not true at all," Cruz said.
"Do what you want to do, the world is basically over anyway," she said.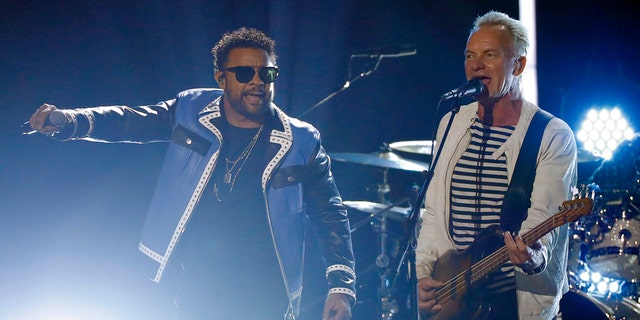 Later in the evening, Lamar took home yet another award for Best Rap Album for "DAMN." In his speech, he thanked those who came before him and dedicated the win to hip-hop in general. Before leaving the stage, he declared "Jay for president," referencing Jay-Z, who was recently called out by Trump on Twitter.
The host of "The Daily Show," Trevor Noah, came out to present Chappelle as the winner of Best Comedy Album. First, however, he had to showcase his trademark political humor.
"I love that song," he said. "It takes me back, way back, to when Trump wasn't president."
Sting and Shaggy captured the audience's attention with Sting opening the performance with his song, "Englishman in New York." The song contains a lot of lyrics with regards to immigration including "I'm an alien/ I'm a legal alien/ I'm an Englishman in New York."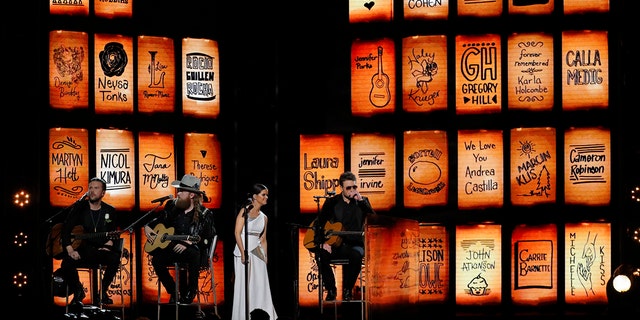 Shaggy seemed to adlib a line about being a legal Jamaican in New York as well.
Following the announcement of Chris Stapleton as the winner of Best Country Album, things took a somber turn. Brothers Osbourne, Eric Church and Maren Morris took the stage to sing a song in honor of the victims of the tragic shooting at the Route 91 Harvest Festival in Las Vegas as well as the bombing at an Arianna Grande concert in Manchester, England.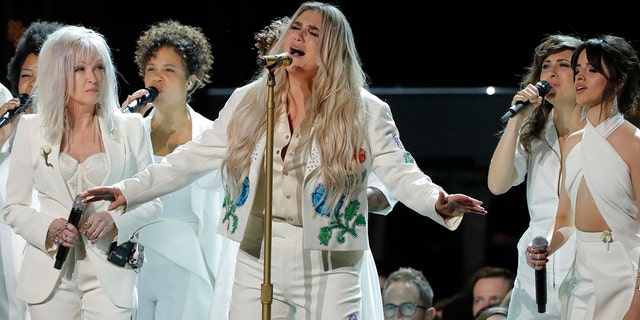 Church opened the dialogue with a few words about the healing power of music followed by a touching, albeit hard-to-hear, tribute from Morris.
"A few months earlier and a continent away the same was true in Manchester, England. The painful truth is that this year in just those two events, 81 music lovers, just like us, went out to a night of music and never came home," she said through some audio technical difficulties. "So, tonight, to honor those we lost, Eric, Brothers Osbourne and I, who all performed in Las Vegas that tragic weekend, want to come together and honor the memory of those music-loving souls so cruelly taken from us."
Things didn't let up from there as Janelle Monae took the stage to give an impassioned introduction to a performance of "Praying" from Kesha, Cyndi Lauper, Cabello, Julia Michaels, Bebe Rexha and Andra Day.
Kesha, who earned her first pair of Grammy nominations for an album reflecting her legal battle with former producer and mentor Dr. Luke, paid tribute to victims of sexual assault and highlighted the #MeToo and Time's Up movements, which many in attendance were publicly supporting as well.
"We say time's up for pay equality... times' up for harassment of any kind. It's not just going on in Hollywood, its not just going on in Washington. It's going on right here in our industry," Monae said. "We have the power to undo the culture that does not serve us well. So, let's work togther women and men as a united music industry committed to creating more safe work environemts, equal pay and access for all woman."
JOY VILLA MAKES POLITICAL STATEMENT WITH GRAMMYS DRESS
In the final performance of the night, rapper Logic capped things off with an impassioned speech that touched on both gender equality and immigration.
"And lastly, on behalf of those who fight for equality in a world that's not equal, not just and not ready for the change we are here to bring, I say onto you, bring us your tired, poor and any immigrant who seeks refuge - for together, we can build not just a better country, but a world that is destined to be united."
The Associated Press contributed to this report.