Grammy Awards: Jennifer Hudson's Tribute, Adele, and Latino Winners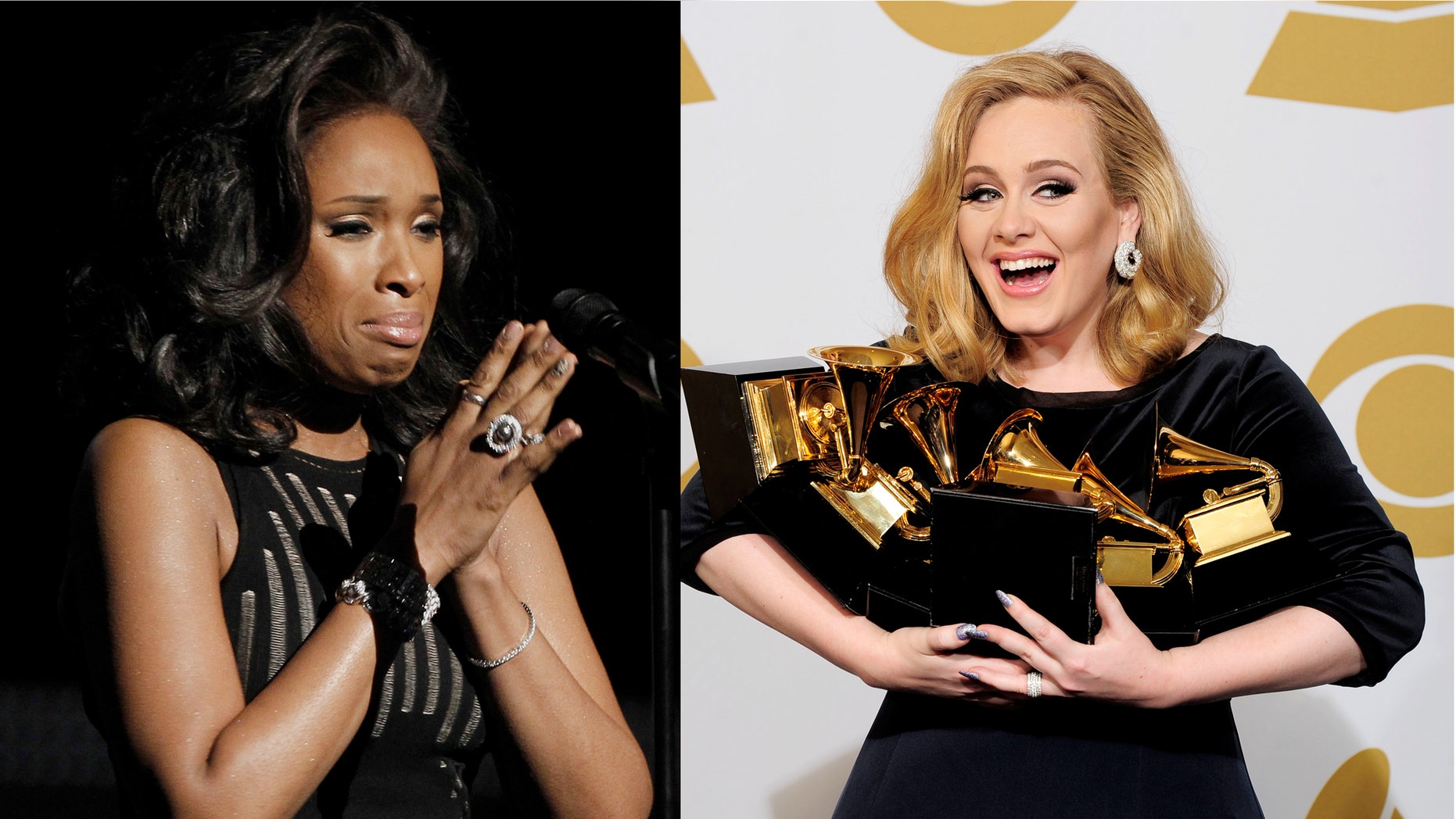 The 54th Annual Grammy Awards this year was highlighted by the triumph of recovered British soul singer Adele and Jennifer Hudson's tribute performance of the late Whitney Houston.
Adele swept the major honors of song, record and album of the year Sunday for her lost-love epic "21" and its driving single "Rolling in the Deep." She picked up her final two awards after making her first public performance in months after being sidelined for throat surgery. Her total of six Grammys matched Beyonce for most ever by a female act.
After seeming almost sheepish in picking up some of the trophies ("This is ridiculous," she said after winning record of the year), Adele's tears flowed upon winning best album.
"This record is inspired by something that is really normal and everyone's been through it -- just a rubbish relationship," she said. "It's gone on to do things that I can't tell you how I feel about them. It's been the most life-changing year."
Celebrities Who Once Were Undocumented
The Foo Fighters won five Grammys for music that singer Dave Grohl said was made in his garage, and ceremony no-show Kanye West won four. Indie rockers Bon Iver won best new artist.
Show host LL Cool J's neat pivot allowed the assembled industry leaders to mourn Houston while enjoying the night's music. He offered a prayer at the outset for Houston, who died Saturday in a Beverly Hills hotel. Later Jennifer Hudson, under a portrait of the late vocalist, sang a portion of "I Will Always Love You." Bruno Mars, Alicia Keys, Rihanna and Stevie Wonder all saluted Houston. (VIDEO BELOW)
"This night is about something truly universal and healing," LL Cool J said. "This night is about music."
Artists have fewer opportunities these days to reach large, diverse audiences and it has made the Grammys an increasingly important venue. Producers take advantage of the star power to pack the night with performances, deemphasizing the actual awards. Sunday's was a sprawling variety show, occasionally historic.
Bruce Springsteen sang a new populist anthem, "We Take Care of Our Own." Rihanna dueted with Chris Martin of Coldplay. Katy Perry debuted a shiny blue haircut. Keys and Bonnie Raitt honored Etta James. The Foo Fighters sang "Walk" and later participated in a tribute to new dance artists. Chris Brown hoofed it up a series of steps, although his voice was barely recognizable. Glen Campbell, soon to retire due to Alzheimer's, appeared in a tribute.
Maroon 5 and Foster the People played Beach Boy songs, then joined the Boys as they reunited for their 50th anniversary. Many believed Brian Wilson and Mike Love, who looked slightly stiff going through "Good Vibrations," would never appear on stage together again.
Paul McCartney sang a jazzy new song from his album of standards, then was joined by Springsteen, Grohl, Tom Petty and Joe Walsh on the Beatles' "Abbey Road" closing medley.
Then there was the truly unexplainable: Nicki Minaj's exorcism outing, ending with her levitating above the stage.
Adele was the uniting force. Her album was a critical hit and commercial powerhouse, and it would have been an upset if she hadn't joined Eric Clapton, the Dixie Chicks, Carole King, Paul Simon and Christoper Cross among artists to sweep the three biggest awards in one night.
And the Latin Grammy Goes To ...?
"It's nice to see as music keeps evolving that something as authentic as she's putting out can still be not just relevant but dominating," said Charles Kelley of Lady Antebellum, last year's record of the year winners.
Adele said backstage that her victories hadn't sunk in yet. She said she enjoyed the two months where a throat ailment forced her to keep quiet.
"I'm actually quite mouthy," she said.
As for the subject of "21," she said, "I think he'll be very happy for me."
Dan Wilson, who co-wrote Adele's "Someone Like You" and two other tracks on the disc, said he's excited about how well Adele has done because her songs are performed simply. It's all about the message and the emotion, he said.
"She stands up onstage and delivers them with tons of soul and heart," he said. "It almost seems like a trick she's doing that. She doesn't have any, like, elephants walking with her or, you know, fire and stuff like it. It seems like she has the most amazing trick, which is she's doing it with almost nothing, and is still blowing us away."
Paul Epworth, who worked with Adele on the album, won a Grammy for producer of the year.
While Adele's vocals are powerful, the singing of best new artist winner Justin Vernon of Bon Iver is often delicate, the music atmospheric. He won a competitive and diverse category with Minaj, The Band Perry, J. Cole and Skrillex. Appearing onstage in an ill-fitting suit jacket, Vernon talked about writing for the inherent reward of writing songs, not for trophies.
It doesn't mean he wasn't honored and grateful for the award, he said backstage later.
"At some point I got really nervous," he said. "Maybe it was because I didn't feel like I deserved to be here ... This is the biggest night in music but it's also a very small Staples Center, and there's so much music out there in the world and it's so hard to feel like it's collecting the whole thing."
He gave an onstage shout-out to Eau Claire, Wis., probably a Grammy first.
Grohl shouted "long live rock `n' roll" as producers played LMFAO's "Party Rock" over the loudspeakers to get him offstage after the Foo Fighters won for best rock performance. He made a plea for musicians to recognize that the human element is what makes their art most important.
The Sexiest Latinas of Maxim's "Hot 100" List
"It's not about being perfect. It's not about sounding absolutely correct. It's not about what goes on in a computer. It's about what goes on in here and what goes on in here," he said, pointing to his head and his heart.
Latino Winners
Mana, Pepe Aguilar, Los Tigres del Norte, Gustavo Dudamel and Israel Lopez "Cachao" all won Grammys on Sunday night but none of the Latino winners received their trophies in person.
That's because their absence coincided with the protest that a group of musicians, songwriters and activists held outside the Grammys, at the Staples Center, after the awards show cut 31 categories.
Los Tigres del Norte won their sixth Grammy for "Los Tigres del Norte and Friends" in the category for Best Band Album or norteña music, while Manna and Aguilar added four each.
Cachao won his third Grammy, achieving the award posthumously for best tropical album for "The Last Mambo".
Pepe Aguilar won Best Regional Mexican or Texan Album for his song "Bicentenario."
Meanwhile, Gustavo Dudamel won his first Grammy in classical music. The Venezuelan conductor who heads the Los Angeles Symphony, won best orchestral performance with "Brahms: Symphony No. 4".  Costa Rican Giancarlo Guerrero, director of the Nashville Symphony Orchestra, who along with Christopher Lamb won the award for best instrumental solo for "Schwantner: Concerto for Percussion & Orchestra."
Winners in selected major categories at Sunday's 54th Annual Grammy Awards.
  Album of the Year: "21," Adele
  Record of the Year: "Rolling in the Deep," Adele
  Song of the Year: "Rolling in the Deep," Adele Adkins & Paul Epworth
  New Artist: Bon Iver
  Pop Vocal Album: "21," Adele
  Pop Performance by a Duo or Group: "Body and Soul," Tony Bennett & Amy Winehouse
  Pop Solo Performance: "Someone Like You," Adele
  Rock Song: "Walk," Foo Fighters
  Rock Album: "Wasting Light," Foo Fighters
  Rock Performance: "Walk," Foo Fighters
  R&B Song: "Fool For You," Cee Lo Green, Melanie Hallim & Jack Splash
  R&B Album: "F.A.M.E.," Chris Brown
  Rap Performance: "Otis," Jay-Z and Kanye West
  Rap Song: "All of the Lights," Kanye West
  Rap Album: "My Beautiful Dark Twisted Fantasy," Kanye West
  Country Vocal Solo Performance: "Mean," Taylor Swift
  Country Performance by a Duo or Group: "Barton Hollow," The Civil Wars
  Country Album: "Own the Night," Lady Antebellum
  Latin Pop, Rock or Urban Album: "Drama y Luz," Mana
  Jazz Vocal Album: "The Mosaic Project," Terri Lyne Carrington & various artists
  Opera Recording: "Adams: Doctor Atomic," Alan Gilbert, conductor
  Traditional Gospel Album: "Hello Fear," Kirk Franklin
  Dance Recording: "Scary Monsters and Nice Sprites," Skrillex
  Dance/Electronica Album: "Scary Monsters and Nice Sprites," Skrillex
  Alternative Music Album: "Bon Iver," Bon Iver
  Spoken Word Album: "If You Ask Me (And Of Course You Won't)," Betty White
Based on reporting by the Associated Press.
Follow us on twitter.com/foxnewslatino
Like us at facebook.com/foxnewslatino