'Glee' Star Lea Michele's Sexy Switch Has Moms Mad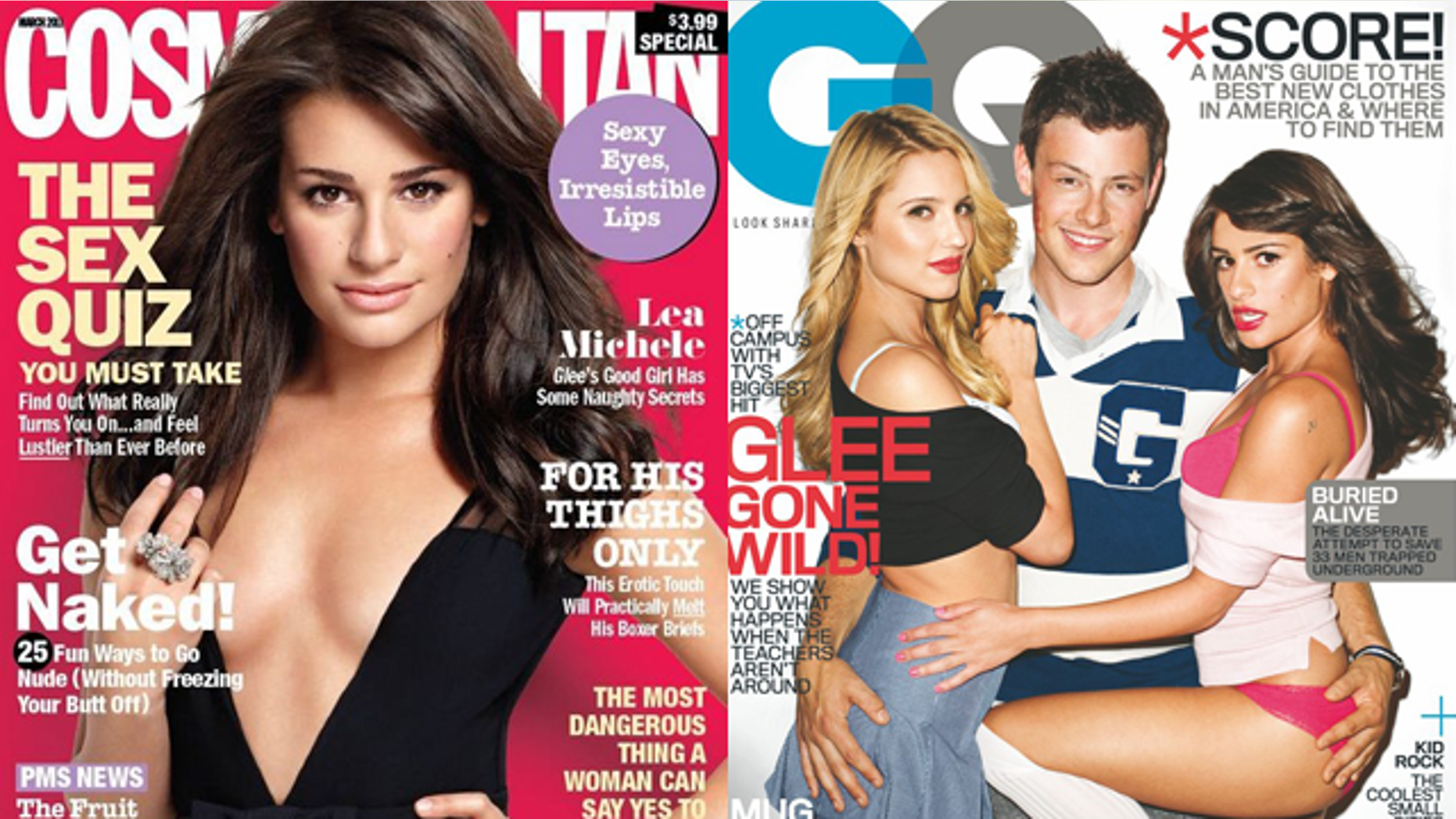 'Glee' star Lea Michele has followed up last year's widely maligned, racy spread in GQ magazine with a daring cover on Cosmopolitan magazine in a dress that plunges nearly to her belly button, much to many 'Glee' fans' moms' chagrin.

These peeved parents say Michele, as an actress who plays a high school student on a TV show watched largely by teen and pre-teen viewers, has a responsibility to their kids to keep things a little more buttoned up.

"I think Lea Michele is sending the wrong message.  She plays such a 'good girl' on 'Glee' and a lot of kids look up to her persona.  Then she poses very provocatively on two magazine covers which makes my almost-13-year-old son very confused and offended," said New York mom Kim Trefcer. " I find it frustrating as a parent who is trying to teach right from wrong to their kids and then you have things like this happen which is showing middle schoolers things like sex sells and all that goes along with that."

Michele has been positioning herself as more of a bad girl over the past six months, moving away from  her onscreen character, the cloying overachiever, Rachel Berry.

Back in October the Parents Television Council slammed a photo spread in GQ magazine of Michele and her co-stars Dianna Agron and Cory Monteith, in which Michele and Agron appeared in skimpy underwear, as "near pornographic pedophilia."

Agron apologized. Michele did not.
Following the scandal, Michele again made headlines in January when it was revealed that she snubbed 14-year old fan Hailee Steinfeld on the Paramount lot while the younger Academy Award nominee was filming "True Grit."

The snub left Hailee in tears, but the pair later kissed and made up at the Screen Actors Guild Awards.

Now in March's Cosmo, Michele is partially covered on the magazine by headlines that include 'The Sex Quiz,' 'Get Naked,' and 'For His Thighs Only.' In her cover interview, Michele gushes that her perfect night involves sitting on Skype with her boyfriend, while drinking a glass of wine.

Of course, Lea Michele is 24-year old adult woman, allowed wine, Skyping, and whatever sartorial choice she wants, from flashing her skimpy panties to revealing her cleavage on the cover of a magazine.

But that doesn't mean parents have to like it.

Mom of two teenagers Suzette Valle, who writes a blog called Mamarazzi Knows Best, thinks Cosmo is just piggy-backing on GQ's publicity from last year and she finds the cover shot of Michele contradictory.

"It's irresponsible to be using an adult who represents a minor dressed in provocative clothes," Valle told Fox411. "I think Cosmo is now taking advantage of the raucous GQ caused with their 'Glee' cover and hoping to cash in on the press that got."

Michele may be smart to position herself as a grownup star, with grownup sex appeal, for the day when her "Glee" gravy train runs out. But pop culture expert and "Cult of Celebrity" author Cooper Lawrence says the actress could be diminishing her current appeal by continuing to appear in such overtly sexual photo shoots.

"You can be sexy without looking ridiculous, and she just looks ridiculous. It's not genuine," Lawrence tells FOX411. "Lea Michelle may be an adult, but to pretend that she doesn't know her fans are 11 is just ignorance. Why take the risk that even one teenager will get the wrong message of from her idol? Now she is just turning off the parents of these kids who are her future consumers."

A Hearst spokeswoman said their magazine is intended for adults and they have no regrets about the Michele cover.

"We're thrilled to feature Lea Michele on the March cover of Cosmopolitan magazine and think she looks stunning.  Michele is a grown woman and Cosmopolitan is a magazine is for adults," the rep told FOX411.

Michele's camp did not return calls for comment.